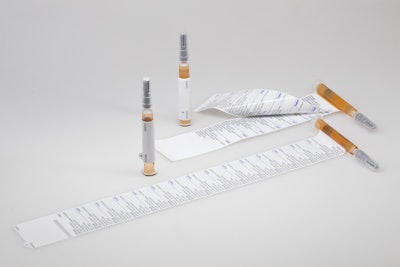 The Clinical Trial Supplies Unit of Sanofi in Montpellier, France, and Schreiner MediPharm developed a solution for blinding syringes during Sanofi clinical study trials.
To best guarantee valid and compliant results during clinical trials, it is important to neutralize investigational products to ensure that active drug and placebo cannot be distinguished from one another.
At the same time, there is a legal obligation to provide extensive product information in different languages for drugs being tested. That presents a challenge for labeling, especially when transparent containers with small radii are involved.
For use in clinical trials, the label must provide sufficient space for compulsory text. In addition, it must ensure that each investigational product has the same appearance, even in transparent syringe barrels.
Depending on the required amount of text, a one- or two-layered wrap design—each of which allows double-sided printing per layer of film—is used for the syringe. Accomplishing this requires extensive, high-opacity printing of the transparent material.
The product developed for this application is based on a long, one-layered wraparound label named Pharma-Wrap, as well as a two-layered Euro-Label.
Flexible film material is required so that the label can be easily wrapped around the syringe with a small radius. The part of the label directly glued to the syringe consists of a tinted transparent film, enabling reliable neutralization of the syringe without obstructing content viewing. The remaining part of the label is printed on a white background, so that product information can be provided on both sides. The integrated peel-open tab enables easy opening and closing of the label.
These new specialty labels increase flexibility, efficiency, and safety for the execution of clinical trials, because one single label variant can be used globally for marking the respective product, while blinding it at the same time.
Editor's note: Although specifics of Sanofi clinical trials projects cannot be revealed, Schreiner Medipharm can adapt blinding labels for other customers with similar demands.
Companies in this article