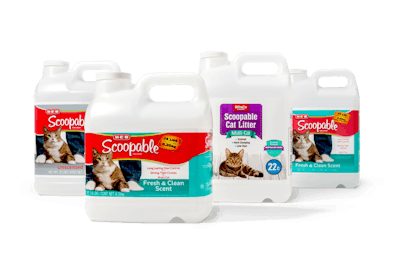 Bentonite Performance Minerals LLC, a subsidiary of Halliburton, is a producer of private-label scoopable cat litter products, which it manufactures from sodium bentonite in its Lovell, WY, plant. Recently the company embarked on a redesign of its handled rigid plastic container to create a more robust package that was also more aesthetically pleasing and convenient for consumers than its existing packaging. The company was also looking to reduce costs.
BPM worked with the Design & Engineering Group at TricorBraun to engineer a custom high-density polyethylene container in a 2- and 2.5-gal size that could meet these goals, while reducing product loss. With Bentonites's existing clear, stock packaging, the product fill levels were much lower than the bottle capacity because the litter material compresses from 10% to 15%. In order to present a product that didn't look underfilled, Bentonite was having to overfill the packages significantly.
Says Tim Jacobs, Package Engineering Manager for TricorBraun, "Our goal was to tailor the brimful capacity and fill levels of these bottles to the specific amount of product going in. Bentonite needed these containers to look sufficiently filled whether we used a larger grain size or a smaller grain size, so we spent some time testing it to get it right."
To reduce the cost of manufacturing two bottle sizes, TricorBraun built interchangeable body blocks. Explains Jacobs, "The top and bottom of the two containers are identical, so we strategically reused these areas of the mold and used mold inserts to adjust the height of the bottle in the middle to produce two different bottles."
Vital to the mold design was that the split lines be barely visible. "Big bottles are tough," says Shawn Viola, Director of Extrusion Blow Molding at TricorBraun. "With a lot of extruded plastic, there's a lot of stretch and corners can become weak and break, so proper die ovalization is key, while venting is also important so that air can escape and plastic can get into corners."
To meet Bentonite's goals for aesthetics, strength, and consumer convenience, TricorBraun added ribs to the sides of the rectangular bottle for strength along with a bottom grip for an enhanced consumer experience. A beveled surface was also added to the corners for visual appeal. A polyethylene stretch sleeve is fitted over the bottle for decoration.
Companies in this article