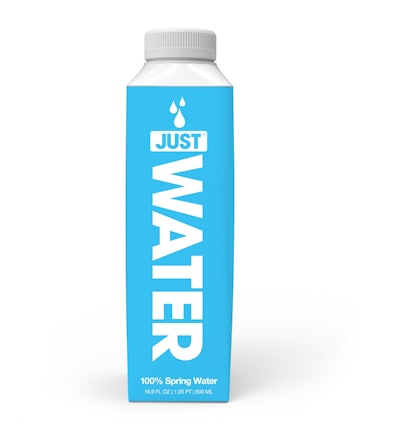 In fall 2016, JUST water became the first to use Tetra Pak's hybrid bottle carton for its 100% spring water. Now the company has improved the renewable content of the package from 53% to 82% by launching a bottle that uses plant-based materials, reducing GHGs by up to 74% compared to a range of PET bottles.
"Our mission from the onset was to deliver a product that is responsibly sourced and packaged for environmental and social impact, while holding ourselves to the goal of continuous improvement," says Grace Jeon, JUST CEO. "It's taken quite a bit of engineering and validations work with our packaging partner Tetra Pak, so achieving this milestone within less than 12 months of our launch is inspiring and motivates us to keep innovating."
The cap and the shoulder of the new plant-based polyethylene bottle are derived from sugarcane. Combined with the current FSC®-certified paperboard used in the main sleeve of the bottle, the JUST water bottle has increased from 53% renewable content to 82%. By renewable, these resources can be regrown and, as such, have an improved environmental profile. According to an independent Life Cycle Analysis, the new JUST water bottle saves from 47% to 74% in carbon emissions compared to traditional light- and heavy-weight PET bottles, respectively.
JUST water is 100% spring water from the Glens Falls watershed in Upstate New York. A unique ethical trade revenue partnership with the city of Glens Falls is revitalizing the local community by paying six times the municipal rate for access to less than 3% of the city's excess water, according to JUST. The revenue over time helps to upgrade aging infrastructures, while the business model itself is restoring industry, providing jobs, and protecting the watershed.
"Kudos to JUST water for continuing to build on their commitment to create more environmentally conscious choices," says Jason Stein, Global Grocery Purchasing Coordinator for Whole Foods Market. "We're pleased to hear about their new bio-based PE and paper bottle, and look forward to continuing to support their business and their mission in our stores."
The new plant-based JUST water bottle is slated to be available nationwide by summer 2016. JUST water is currently available nationally at Whole Foods Market, Kroger, and other retailers, with a retail price of $0.99 for a 16.9-oz carton.
Companies in this article