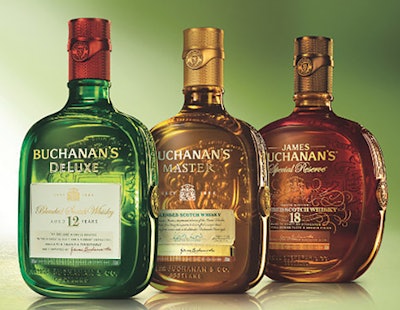 For the first time in more than two decades, Buchanan's has redesigned the packaging for three of its Scotch whisky products to propel the brand into the future with a more modern look, while also paying homage to its long history.
Says Brian Cox, Director, Scotch Whisky North America at Diageo, Buchanan's parent company, "Buchanan's represents more than 100 years of authentic heritage, starting with James Buchanan, who set the tone for a brand driven by quality, legacy, and vision. Buchanan's packaging hadn't been updated in 23 years, so it was redesigned to reflect the brand's elevated premium quality and style cues."
Among the packaging elements retained for the DeLuxe, Master, and Special Reserve whiskies is the shape of the glass bottle, which resembles the water canteens used during World War I. However, the shape has been contemporized to "bridge the past, present, and future," says Cox. Bottle colors are inspired by the brand's Scottish heritage, specifically by the greens found in the rolling hills as well as the amber hue of whisky.
Also carried over was the brand's nearly full-panel coat of arms embossed on the back of the bottle and the Red Seal, which comprises two copper-colored seals attached to either side of the bottle as a symbol of the brand's commitment to quality.
Changes include new plastic closures from Global Closure Systems in red, gold, and brown, depending on the whisky variety. Package graphics were designed by Force Majeure, formerly Raison Pure, and were created to "bring to life the craft, attention to detail, and quality in official Victorian certificates and contracts, which cues the guarantee of excellence inherent to the Buchanan's brand," Cox says.
The label for the DeLuxe variety is a clear pressure-sensitive material offset-printed in nine colors, along with gold foil stamp, gloss and matte varnish, and raised texture varnish. The Buchanan's Master label is also a clear p-s label, offset-printed in eight colors, along with gloss, satin, matte, and pearl varnishes. Special Reserve uses direct-to-bottle printing in eight colors, along with gloss and satin varnishes.
The new packaging for Buchanan's DeLuxe, Special Reserve, and Master whiskies was introduced in fall 2015; Buchanan's Red Seal blend will be available in updated packaging later this year.
Companies in this article