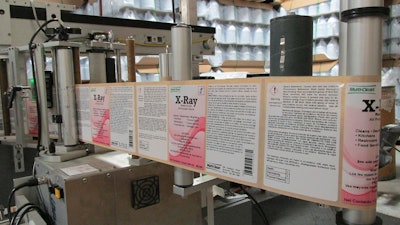 The global chemical industry has seen significant growth over the last decade, reaching a record $5.2 trillion in 2014, according to the American Chemistry Council. With exports accounting for nearly $2 trillion in 2013 (as reported by statistica.com), global harmonization and standardization of chemical labeling has become increasingly important.
In 2012, the U.S. put into place The Globally Harmonized System of Classification and Labelling of Chemicals (GHS), requiring chemical product manufacturers to adopt the standard by June 1, 2015. GHS is an internationally agreed upon system created by the United Nations to replace the various classification and labeling standards used in different countries by using consistent criteria on a global level.
For Shoreview, MN-based Multi-Clean, a 68-year-old manufacturer of commercial cleaning and floor maintenance products, the requirement for GHS compliance triggered a complete overhaul of its labeling process. Partnering with Lofton Label, the company redesigned the labels for most of its 345 SKUs as well as updated its label printing and application processes to increase efficiencies.
Redesign provides compliance, aesthetics
Central to GHS compliance is the inclusion on product labels of a red, diamond-shaped outline with a black pictogram inside signifying one of nine different hazards as well as a product identifier, a signal word, hazard statements, precautionary statements, and the name, address, and phone number of the responsible party—all of which had to be accommodated on Multi-Clean's new labels.
The company launched the GHS project in October 2012, beginning with the creation by a seven-member internal team of a new GHS-formatted Safety Data Sheet for each SKU. By June of 2013, all of the company's product formulas had a Safety Data Sheet. This data was then used to create label copy.
While redesigning its label graphics to include the GHS elements, Multi-Clean took the opportunity to develop a new product brand strategy by color-coding each of its main product lines, moving its product image from a more generic look to one with retail appeal for its distributors.
Explains Jim Kellar, Marketing and Communications for Multi-Clean, "Training and safety compliance is made easy with color- and number-coded containers along with matching spray-bottle labels. Multi-Clean has always differentiated its product lines using color, providing more variety to dealers' display shelves. With the redesign, Multi-Clean was able to expand on that. Color is one of the ways we help end users identify products, since English isn't always their first language."
These new multicolor labels required a new printing process—a welcome change, according to Kellar. In the past, Multi-Color UV screen-printed bottles in one color, or applied preprinted labels by hand. "The UV ink-printing process we used required a curing time that created a bottleneck in our filling line," he says. "Containers could only be filled as fast as the printer speed. UV inks required many special handling requirements, such as static electricity elimination, solvents, thickeners, and curing agents. Cleanup was considered hazardous waste; this became a costly chore.
"It was important for us to continue our print-on-demand approach to inventory. At the same time, we were interested in automating some of our production processes. We knew our days of screen printing one color on containers, or hand-applying labels had to end in order for us to move forward."
With redesigned label graphics in-hand, Multi-Color ordered 52 label styles from Lofton, printed on a Mark Andy flexo press. Static information is preprinted on the labels in up to three colors—including the red GHS diamond—plus a clear polypropylene laminate that protects the label from chemicals. Variable data is overprinted in-house in 300-dpi using Zebra 220XiIII Plus and 220Xi4 industrial printers, used for different label sizes. The printers use a thermal-transfer ribbon with ink designed specifically to bond to the laminate.
Impressive productivity gains
The next step was to automate Multi-Clean's label application process. The new equipment needed to accommodate several plastic bottle sizes, including 1-qt carafe, 0.5-gal F-style, and 1-gal round containers as well as a unique rectangular 2-L container patented by Multi-Clean.
The labeler recommended by Dave Sachs, Equipment Sales Specialist for Lofton Label, was the Universal CP1000, part of the Contract Packager Series, from Universal Labeling Systems, which offers a top-rated speed of 1,500 in./min. The system provides easy changeover of products and labels, and uses two Universal SL1500 stepper driven wipe-on label applicators. Multi-Clean still applies by hand labels for its 5-gal pails, 55-gal drums, and 275-gal totes.
In July 2014, Multi-Clean rolled out its new GHS-compliant labels—far ahead of the June 2015 deadline. According to Mike Tarvin, Vice President of Multi-Clean, there have been many positive results from the partnership with Lofton Label. Among them, the chemical company has increased overall production by 250%.
"We had a bit of turnover in staff, and even with less experienced employees, we're seeing more productivity," Tarvin says. "To top it all off, we're ahead of the game on GHS compliance, and we've updated our brand image and more than doubled our productivity. I'd call that a success story."
Companies in this article
Videos from Universal Labeling Systems, Inc.