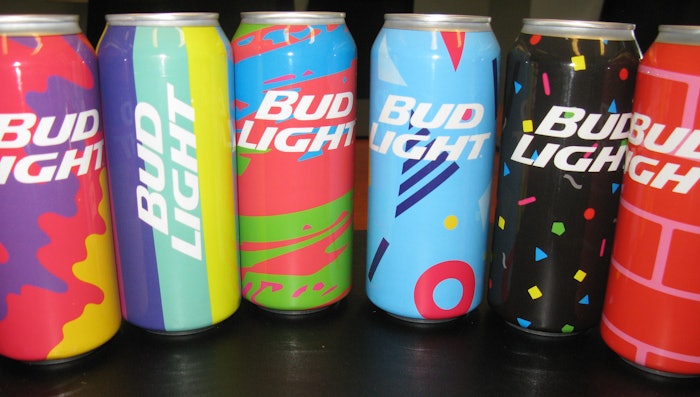 In a summer partnership with Mad Decent Block Party, the brewer is releasing limited-edition 16-oz Bud Light festival cans decorated in full-body shrink-sleeve labels. Bud Light developed 31 designs for the release, and these could be transformed into 31 million unique labels thanks to HP SmartStream Mosaic algorithm from HP Indigo. The software modifies each label design to produce label outputs where no two are alike. In this case, about 200,000 labels were needed to support the promotion, so that's how many unique labels were produced. The cans will only be available at Mad Decent Block Party events in the U.S. and Canada. Founded by Grammy-award winning artist Diplo, Mad Decent aims to bring new genres and cultures to light in the ever-evolving music world.
"The exclusive Bud Light can designs were inspired by the spontaneous and unexpected experiences that music lovers have enjoyed at Mad Decent Block Parties for the past seven years," says Alexander Lambrecht, Vice President of Bud Light. "We're thrilled we could implement our packaging innovations to support the release of the Festival Cans this summer." Bud Light claims to be not only the first beer but also the first brand in the U.S. to use the HP SmartStream Mosaic technology. Last summer, as part of the worldwide Stay Extraordinary campaign for Diet Coke, the HP SmartStream Mosaic algorithm was used to produce some two million unique labels for Coca-Cola Israel's Extraordinary Collection. That project included shrink sleeves on glass bottles and wraparound labels on plastic containers.
"We were looking for something where packaging could make an impact," says Gina Bazigian, Packaging Innovations Manager at A-B InBev. She says the converting was done by "one of our current suppliers," and application was done by Verst Group.
Companies in this article