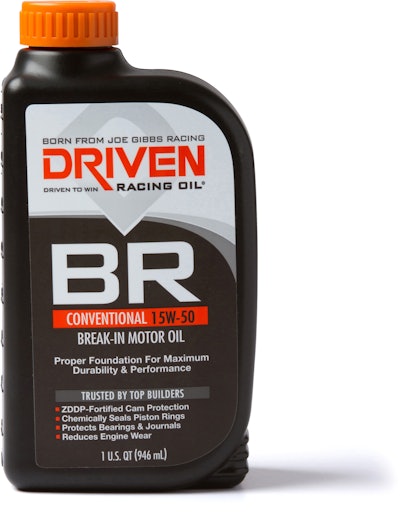 Driven Racing Oil of Huntersville, NC, manufactures high-technology lubricants to optimize the engine performance of racing cars, from hot rods to NASCAR and Indy cars, whether driven by professionals or weekend amateur racers. Its products are also used to protect the valuable vintage engines of collectors' classic cars. Recently the company realized it needed to rev up its packaging to distinguish it from other motor oil products on the retail shelf.
Says owner Lake Speed Jr., "These are custom oils formulated to meet the high demands of specific engines, from hot-running, high-speed racing engines to the engines in one-of-a-kind 70-year-old classic cars.
"Our specialty oils are completely different from the standard motor oils consumers use in their cars, but they are often sitting on the same shelf in an automotive or specialty 'speed' shop. We needed distinctive packaging to make them immediately identifiable as Driven products and to leverage our strong reputation."
For its first 10 years, Driven packaged its specialty oils in stock motor oil bottles, relying on labeling to differentiate it from competitors and to identify its various products, each of which is used by a specific engine type. But as sales grew, both domestically and overseas, the company's marketing department concluded that Driven needed a distinctive package, and especially one with a recognizable non-verbal element that would let customers anywhere in the world immediately identify its products. "We needed something like the Nike 'swoosh,'" says Speed.
For design assistance, Driven turned to its current bottle provider, TricorBraun, which met Driven's need for a non-verbal, distinctive identifier with a bottle design in the shape of the letter D, echoing the "D" in the Driven Racing Oil name and in its bright orange Driven logo. This lets it stand out from both commodity oil bottles and competitors' custom bottles. The label, with its bright orange logo, follows the D shape, and the bottle's bright orange custom closure helps it stand out even more on the shelf.
The physical design of the bottle also mets two more of Driven's packaging objectives. Its size allows it to be filled as a quart, for the U.S. market, or as a liter for overseas markets. It also features a 38-mm neck orifice, as opposed to the 28-mm orifice of traditional oil bottles. When Driven tested the larger orifice with consumers, they were delighted by its quicker, smoother pour.
"The result is, we now have a unique bottle design that projects our quality image and a single bottle that we can use for all of our products in all of our markets," says Speed.
With TricorBraun's input, Driven's vision for the bottle design evolved from concepts through 3D renderings to FDM (fused deposition modeling) models, enabling Driven to arrive at the final structure. CKS Packaging manufactures the custom bottle using TricorBraun molds, while Reliable Caps supplies the custom closure. Driven designs its own labels, which are printed by Resource Label Group.
Companies in this article