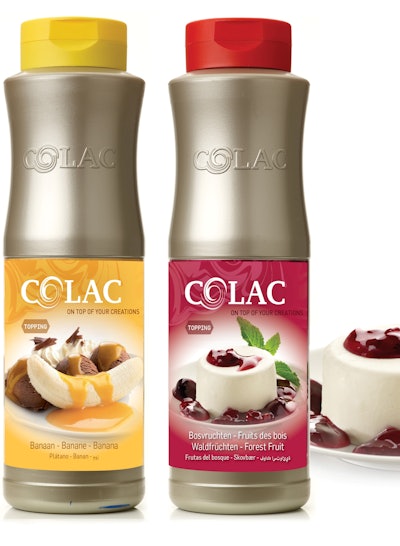 Coextrusion blow molded of polypropylene/EVOH/PP by RPC Promens Consumer, the stylish bottle is finished in an eye-catching champagne colour to provide effective differentiation. Designing the bottle with a waist, attractive labels, and an embossed Colac logo in the curve of the bottle results in high-impact appearance. The barrier container protects the products against oxygen ingress to deliver an ambient shelf life of up to 24 months.
"This is an attractive pack that reflects our premium image while providing the required level of protection to ensure product quality is maintained," says Geert Vermeersch of Colac.
Colac dessert toppings are available in a range of flavours, including cherry, banana, strawberry, chocolate, and caramel. As an extra delicious twist, they can also be added to hot drinks for a tasty variation.
Companies in this article