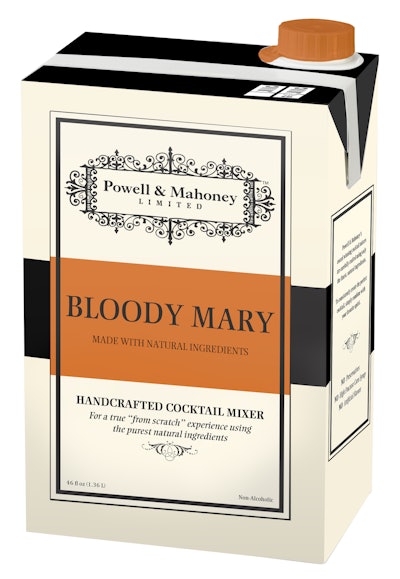 Salem, MA-based vintage cocktail mixer producer Powell & Mahoney, Ltd., in collaboration co-packer Leahy-IFP Co., is now offering premium specialty cocktail mixers in aseptic carton packs from SIG Combibloc. The mixers are currently available in classic flavors such as Margarita, Peach Bellini, and Bloody Mary.
"We are excited to bring our all-natural mixers to the foodservice arena," says Powell & Mahoney co-founder Brian Powell. "We love cocktails! For over two decades, we have traveled the world, sampling the finest creations from the most talented and knowledgeable. And now we are able to introduce and share our clean, authentic flavors of American cocktail classics in lightweight and easy-to-use aseptic carton packs. The packaging is a revolution for the cocktail mixer category."
Since February, the mixers have been available in the U.S. market in the combiblocMaxi 46-oz carton with the combiSwift screw cap. Says Powell, "Our mixers will save time without sacrificing taste. The new line of foodservice packaging makes it affordable, quick, and easy for bartenders to create consistently enjoyable cocktails anytime, anywhere."
According to SIG Combibloc, the strengths of carton packs include their convenience and their product protection qualities. Using the gentle aseptic filling and packaging technology, the products retain their natural flavors and color, and no preservatives are necessary. If left unopened, they have a long shelf life, and require no refrigeration. Carton packs from SIG Combibloc are naturally BPA-free. In addition, says SIG Combiloc, they are lightweight and have a convenient shape, so they are efficient to transport, store, handle, and dispose.
The cocktail mixers from Powell & Mahoney, Ltd. are filled at Leahy-IFP Co. Leahy-IFP is a co-packer that specializes in the production of premium foodservice products and utilizing superior packaging solutions. Today Leahy-IFP's products are available in all 50 states, Canada, and the Caribbean through nearly 500 foodservice distributors.
"At the end of the day it really comes down to what's inside the box," says Gifford Brown, Senior Director of Sales-Contract Packaging at Leahy-IFP. "We are excited to bring our gentle processing technology with a premium product that delivers exactly what operators are looking for: quality and consistency at an affordable price. All of the benefits of the package are merely a bonus."
Companies in this article