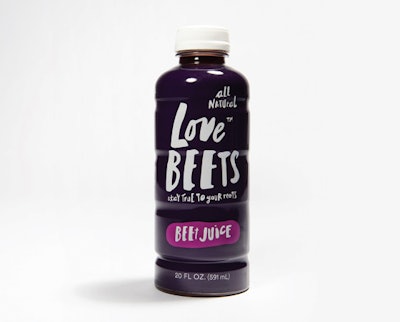 Unveiled in fall 2014, new branding for the Love Beets line of all-natural, ready-to-eat beets injected a burst of color and whimsy into the product packaging to highlight the vegetable's superfood status and make it more approachable (see pwgo.to/1455).
In this same vein, in early 2015, the Philadelphia-based purveyor of beet products introduced new PET packaging for two established beet beverages, and launched new Organic Beet Juice in a glass bottle that showcases the product's premium, healthy attributes.
Says Love Beets Vice President of Marketing George Shropshire, "The logo, font, and overall 'look' for the bottles were designed by New York City-based design agency Pentagram. They were designed in conjunction with our ready-to-eat beet products so that there would be a visual aesthetic and consistency within the entire Love Beets product range."
For Love Beets' existing line of beet juices in two flavors, the company switched from an 8.5-oz PET bottle to a 20-oz size, supplied by Zuckerman Honickman. "We wanted consumers to be able to keep these in the fridge and possibly even use them over the course of a few occasions," says Shropshire. The choice of PET allows the bottle to be more grab-and-go, "with fitness enthusiasts able to just throw it into their gym bag, or for people to give to their kids," he adds.
The column-shaped PET bottle features horizontal sidewall ribs to absorb the vacuum during the hot-fill process and to provide top-load strength and dent-resistance. Bottles are decorated with full-body shrink-sleeve labels in a deep purple color for Beet Juice and a bright red for Cherry-Berry & Beet Juice.
For its new product, Organic Beet Juice, Love Beets chose a 14-oz glass bottle with the same shape (without ribs) as the PET bottle. Explains Shropshire, "Our Organic Beet Juice is in a glass bottle because we feel it's important to display the unique dark color of the beet juice. Aesthetically we love showing off the color of the juice, and of course, the text also really 'pops' against the dark liquid, making the bottle stand out on shelves. Using glass also promotes the same values as the organic product inside of the bottle."
Zuckerman Honickman also supplies the glass bottles. Notes Shropshire, the bottle shape was selected to complement the Love Beets logo and the font, rather than compete with them.
Love Beets' juice beverages are available in grocery stores nationwide for a suggested retail price of $4.99 to $5.99.
Companies in this article