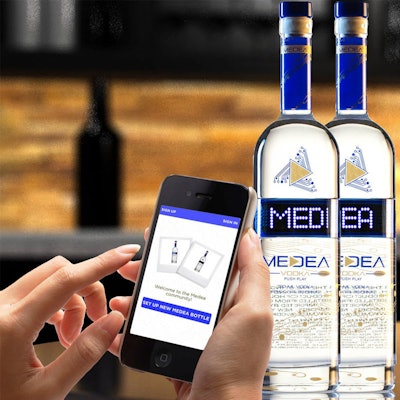 MEDEA, Inc., an ultra-premium vodka producer with the world's only customizable LED message band built onto its spirits bottle, will be launching its new Bluetooth technology on all MEDEA Vodka bottles beginning in June 2015. This will allow consumers direct access to the bottle's technology through their wireless devices. Paired with the new Bluetooth technology is a MEDEA app, which was developed in-house by the company's technology team.
The MEDEA Vodka LED bottle uses Apple's iBeacon Bluetooth technology to allow a smartphone to wirelessly set and display scrolling messages. The MEDEA app is able to immediately know what bottles are in the vicinity without having to connect or find every Bluetooth-enabled device. This cuts discovery from minutes down to seconds. The MEDEA app knows at all times which bottles are on, are available to be registered, and are ready to receive instructions for setting and displaying messages.
"MEDEA has a strong technology focus, with patents developed for electronic devices, such as programmable LED displays that are integrated onto our vodka bottles.MEDEA's patent portfolio includes numerous issued patents and pending patent applications covering various technology processes associated with electronic devices," says Peggy Taylor, Vice Chair of Medea, Inc.
The community aspect of the MEDEA app is designed to speak to the foundation of sensible consumption and having fun with friends.The ability to share a conversation among friends, through bottles, brings this technology into the social realm.Not only can users share access to their MEDEA bottle with friends to change, modify, or add messages, but they will also be able to directly post to their social media applications, including Facebook, Twitter, and/or personal e-mail accounts.By connecting to the nearest unregistered bottle in range, the app ensures that only the user and those with whom he or she is sharing their personal bottle have access. Once registered to the user's phone, the bottle cannot be accessed by another.
Users, on- and off-premise establishments, and brands can program messages from social to marketing-centric content to fit every occasion. The bottle is preprogrammed with six familiar phrases such as, "Happy Birthday," "Congratulations," and "Thank you" that crawl across the label in electric blue.Owners can program their bottle to say whatever they want.