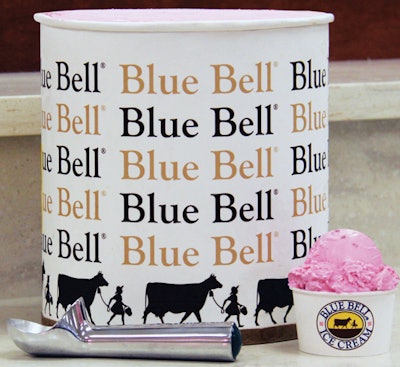 Premium ice cream maker Blue Bell Creameries, headquartered in Brenham, TX, produces and packages a broad range of year-round and seasonal ice cream flavors in pint and half-gallon round containers and bulk drums. For its institutional ice cream customers, the company initially had been using paper-based bulk drums with metal ring binding. But the metal rings had the potential to occasionally cause foodservice worker injuries such as finger cuts.
In addition to addressing the foodservice worker safety issues, the company also was interested in improving its overall bulk ice cream packaging cost efficiencies and offering innovative, "brand-identity" ice cream packaging in the bulk category.
After considering other container options, Blue Bell came upon the AllPaperDrum™ (APD) bulk ice cream packaging system from Weidenhammer Packaging. This system was introduced to Blue Bell by the creamery's long-time packaging materials broker and manufacturers rep Baer & Associates (660/736-5723 or 713/816-7008).
The 3-gallon package consists of sidewall, bottom, and lid. Bottom and sidewall are joined at Blue Bell by drum-forming equipment leased from Weidenhammer.
Weidenhammer makes both the bottom and the lid. The bottom is an extrusion lamination of kraft linerboard to kraft linerboard that gets a coating of low-density polyethylene. Weidenhammer makes the top in two steps. First rings are formed from a two-ply lamination of kraft linerboard to kraft linerboard. The rings are then introduced to a machine that cuts a disk from single-ply kraft linerboard and uses adhesive to marry disk to ring.
The sidewall comes from a Weidenhammer-sourced supplier. It's a two-ply lamination not of kraft but rather of cup stock paper. It'sprintedflexo in two colors. Like the bottom, it gets a coating of low-density polyethylene. In the drum-forming equipment at Blue Bell, the LDPE coating on the sidewall is heat-sealed to the LDPE coating on the bottom. This produces a water-tight drum without the need for gluing operations. Also notable is that this machine can be changed quickly to form drums whose fill-volumes vary.
A short distance from the drum-forming machine is equipment from T.D. Sawvel Co. that fills the drums and applies lids. Date codes are imprinted on each drum by a Videojet ink-jet printer.
Blue Bell tested the new packaging in 2013, and introduced it to some customers in 2014. Customers primarily are foodservice outlets such as ice cream parlors, restaurants, theme parks, and sporting venues—any establishments that serve hand-dipped ice cream throughout the company's distribution area, currently encompassing 23 states.
Weidenhammer worked with Blue Bell to lay out a comprehensive conversion plan that began in 2013. By the beginning of 2015, Blue Bell had converted 100% of its bulk ice cream business to the AllPaperDrum system.
Benefits a la mode
Blue Bell Purchasing Manager Mark Patranella says, "The APD offered the most efficiencies of any of the 3-gallon packages we evaluated. It allowed us to reduce labor and bring a unique package to the market place. Our customers often had complained about the hazards of metal rings on the drums. The APD eliminates that issue. Disposal of the emptied drums at the user locations is also safer, simpler, and more space-efficient."
According to Patranella, a plastic lid is an option on the APD. "But we opted for the all-paper lid. It mimicked our existing lid, is more economical than the plastic lid, and it works well on our filling line. We do not use any lip-rim sealing membrane. From a packaging materials standpoint, the APD system also incurs less freight costs because the supplier shipping location is closer to our manufacturing facility than our previous supplier was. And by directly conveying from the drum former to the filler, we have been able to reduce labor requirements."
Drum form/fill/seal speeds have increased versus the old system—approximately 12 drums/min now versus about 8 before. And the new system is engineered to be more operator-friendly, requiring considerably less operator time and attention.
The Weidenhammer automatic container former is located on an upper floor of the plant. A line operator feeds sidewall stock and bottom disks into the machine, which roll-forms the sidewalls, inserts the bottom disk, forms the top rim lip, and heat seals the LDPE-coated side seams and bottom seams. The drum then is automatically dispensed onto a conveyor system headed for the filler. The container is filled, lidded, and then travels to the ice cream hardening station.
According to Patranella, "Our staff adjusted quickly to the new bulk drum system. We did have to tweak the filler slightly to accommodate the new drum, but it was a very minor adjustment, and the transition went smoothly. Weidenhammer has been a very active partner in making sure the system operates well. The training of our production and maintenance staff was comprehensive and effective. Any issue that has arisen has been handled promptly by Weidenhammer."
Overall, Blue Bell has found this packaging system to be highly reliable and cost-effective. No metal or plastic binder rings or messy, difficult-to-use adhesives are involved. In addition, Blue Bell has greater control over the art printed on the sidewalls due to no interference from fold lines or spiral-wound construction associated with the old containers. Exact placement of Blue Bell's "cow and girl" graphics gives the ice cream company a higher brand identity on its bulk products.
Blue Bell Director of Marketing Carl Breed notes, "The new all-paper container presents us with a much greater opportunity to emphasize our brand. Unlike our previous container (which was spiral-wound), our new bulk drums allow us to highlight our name and logo with a straight and more prominent layout and design. Our packaging is unique in the bulk ice cream marketplace, and we have received acceptance from our customer base."