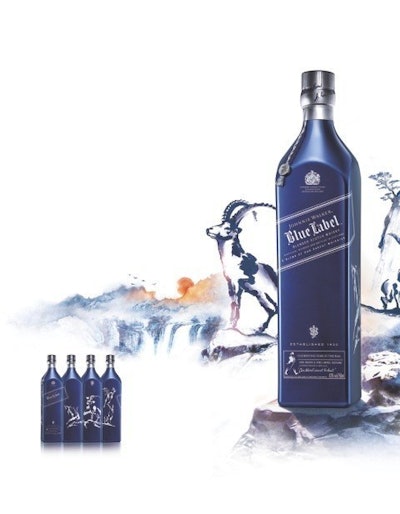 Johnnie Walker has announced the second annual release of a collector's edition of its Scotch whisky to commemorate the thousands-year-old celebration of the Lunar New Year. Johnnie Walker Blue Label Year of the Ram is available for purchase in a limited release, at retailers across the country.
This special edition marries traditional Chinese ceramic artistry with one of the House of Walker's rarest and most luxurious expressions of the art of blending, says brand owner, Diageo. Every detail is deliberate and takes into account the iconic bottle design. When four bottles with their signature Johnnie Walker slanted labels are placed side by side, a single image unfolds—like a Chinese scroll painting.
Relates Diageo, the ram's associations with good fortune, beauty, and a determination to reach new heights inspired the design. The artwork illustrates three rams standing in distinguished positions—a traditional reference to the Book of Changes signifying a New Year of great fortune.
"The Johnnie Walker Blue Label Year of the Ram bottle weaves the best of Chinese ceramic art with the very finest blended Scotch whisky," says Brian Cox, Director of Scotch Whisky for Diageo North America. "The Lunar Year is an incredibly exciting and significant holiday in the Chinese tradition. We are proud to honor it with our finest blend—Johnnie Walker Blue Label—so that people can enjoy the Lunar New Year responsibly and with quality."
Johnnie Walker Blue Label Year of the Ram Special Release is available nationwide with a suggested retail price of $258 (750 mL/bottle).
Companies in this article