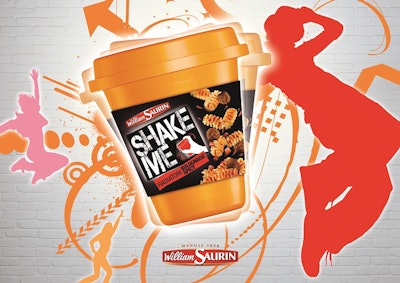 Leading French food manufacturer Soulié Restauration, part of William Saurin, is shaking up the ready meals market with a brand new product packed in a custom packaging solution from RPC Barrier Containers.
The new Shake Me range brings the principle of the shaker pack—where ingredients are shaken and mixed together immediately before eating—to pasta dishes. Each pack contains a sauce topped with pasta, which is then microwaved and shaken for instant enjoyment. Keeping the pasta and sauce separate until the last moment also helps to preserve the texture of the pasta.
The thermoformed polypropylene/ethylene vinyl alcohol/PP 590-mL multilayer cup from RPC Bebo Plastik delivers an ambient shelf life of 18 months. The injection-molded PP lid is manufactured by RPC Bramlage and provides a tight hermetic seal with the cup to prevent leakage of the sauce. The lid incorporates a bayonet system with two closed positions: the first seals the pack after filling and while on shelf, the second is the position used for reheating by the consumer. The lid also features 52 small holes to allow steam evacuation during microwaving, while its design allows the incorporation of a fork underneath for on-the-go consumption.
The pasta and sauce are retorted in the pot after filling before the addition of the lid. The technical teams at the two RPC sites worked closely together to ensure a perfect seal between cup and lid, particularly during the shaking stage.
The attractive cup design offers easy handling for the consumer. Aimed at the 18- to 25-year-old age group in particular, the pack's bright orange color is complemented by an eye-catching sleeve for maximum on-shelf branding, while the lid features a matte effect and incorporates the William Saurin logo with a glossy effect finish.
RPC has enjoyed a long-standing working relationship with William Saurin and the company's skills in multilayer packaging and its ability to supply both the pot and lid were key reasons for its selection for this new project.
"The pack provides effective product preservation and protection and, equally important, it projects a youthful quality image in keeping with our target market," comments Maxence Le Brun, Product Manager at William Saurin.
Companies in this article