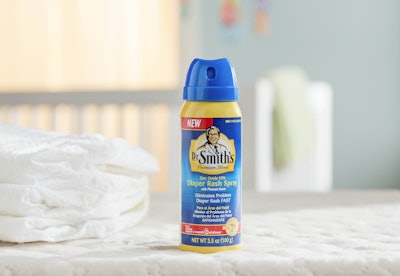 A new diaper rash spray treatment designed to help "soothe the irritated baby bottom" is doing double-duty helping the environment, using a low global-warming propellant from Honeywell. The new product, Dr. Smith's Diaper Rash Spray from San Antonio-based therapeutic products company Mission Pharmacal Co., complements the company's tried-and-true ointment, offering an environmentally friendly and effective alternative to the traditional topical method.
As Mission Pharmacal Director of Consumer Marketing Allan Avery explains, Dr. Smith's Diaper Rash Spray is the only zinc oxide aerosol on the market. In selecting packaging for the new product, he says the company's goal was to pick one of the most environmentally friendly propellants available on the market: "Honeywell Solstice was that propellant."
"The propellant is one of the most environmentally preferable aerosol technologies available today," Avery adds. "It is hydro-fluorocarbon free and is not a volatile organic compound."
In addition, the spray is non-flammable and offers a Global Warming Potential of less than six, reducing CO2-equivalent emissions by 99.5% compared to HFC-134a—a propellant with a GWP of 1,300 that has recently been subject to use restrictions due to its contribution to climate change. According to Honeywell, Solstice Propellant is "a near drop-in replacement, with only minimal changes required to formulations and equipment."
The Dr. Smith's patent-pending formulation was developed with safety and ease of use in mind, says Avery. It sprays on evenly and ensures that the product clings to the skin, creating an even layer of protection on the affected area.
The 3.5-oz aerosol can and actuator for the new spray are supplied by Formulated Solutions, LLC, which also manufactures and fills the product at its plant in Largo, FL.
Dr. Smith's Diaper Rash Spray is available on websites including Walgreens.com and Drugstore.com as well as at a range of retail stores in Texas; additional national distribution is slated for later this year. The product carries an average retail price of $8.99 to $10.99, depending on retailer.
Companies in this article