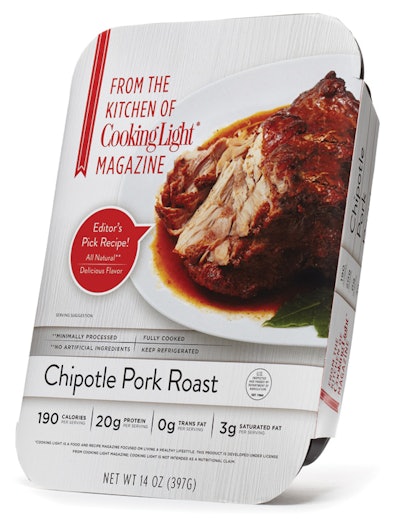 In early 2013, Cooking Light magazine added mobile technology to its toolkit by incorporating digital watermarking in all of its recipes—a feature that was carried over to the packaging of its ready-made meal solutions upon their launch in mid-2013.
As used in the magazine, Digimarc® ID digital watermarks from Digimarc Corp. are embedded into photographs of prepared recipes that readers can scan using the Digimarc® Discover smartphone app. Upon scanning, readers are taken directly to the recipe page online, where they can save the recipe. For those readers who have registered with the brand, they can also save the recipe to their own personal recipe file as well as create a shopping list of the ingredients.
Cooking Light Vice President of Marketing Michelle Lamison says the company selected Digimarc's digital watermarking over other technologies, such as QR codes and similar systems, due to aesthetics, reliability, and simplicity. "While we [marketing] are on the business side, our editors love to have the magazine look pretty," she says. "QR codes and other visual devices like that tend to impede the beauty of the photography.
"Also, what we found with some other technologies, such as Augmented Reality, was that while they were cool and catchy, they didn't work all the time. In addition, they provided more of a gaming experience, which is great for some brands, but in this case, we really were talking about enhancing that experience and making it easier for her to get these meals on the table. So we wanted something that was simple and reliable."
Lamison adds that the backend steps of creating the digital watermarks "are pretty simple." The editorial team applies the watermark right before the magazine goes to print, and then they assign a URL that links to the recipe page on Cooking Light's website. "The hardest part is balancing that from a visual perspective so that you don't see the watermark," she says. "But the average consumer won't even notice it within the image."
Among the benefits of the technology for Cooking Light the company can change the URL as many times as they want to link, for example, to a seasonal recipe, and they can determine which recipes are scanned most often. In some cases, the magazine editors have added a popularly scanned recipe to an issue when they need additional content.
In June 2013, when Cooking Light introduced a line of refrigerated meals and meal components—including sides, soups, flatbreads, take-and-bake meals, and "cuisine solutions"—they incorporated digital watermarking throughout the entire package. This not only provides serving suggestions to consumers, but also aids in the checkout process.
For consumers, Cooking Light Executive Director, Brand Management Michelle Jacobs says the scannable watermark helps them assemble a complete meal. "What we are saying is, 'We have great proteins, we have great soups, we have great sides, but here's a way to make the whole meal.' The Digimarc piece allows us to give her a full, complete meal using components she can buy at retail, so she still feels like she is putting dinner on the table." To alert consumers to the scannable content, Cooking Light includes a call to action and instructions on the back panel of their packaging.
For checkout clerks, having a Digimarc® Barcode printed on the entire package with the item's Global Trade Item Number (GTIN), allows them to scan the product without having to hunt for the UPC code. According to Digimarc, clerks scanning "Digimark'd" packages using a Datalogic Magellan™ 9800i scanner have been clocked at rates exceeding 36 items/min versus the industry average of 24/min.
According to Jacobs, Cooking Light's use of digital watermarking "closes the loop." She says, "A lot of times people see recipes in the magazine, and they want to cook them, but they leave their shopping list at home. This is just a good way to get it from the printed page onto your phone, so when you make that trip to the grocery store, you have it with you. This technology will continue to evolve and get better and better. What is great about the fact that we are using it early, and we are getting our consumers used to it, is that they can move with us as the technology gets more seamless."
Companies in this article