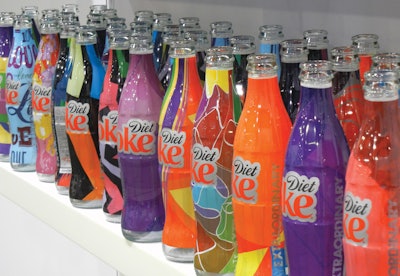 After experiencing wild success with its mass-personalization label project for the Share a Coke campaign (see pwgo.to/1149) now in 53 countries, The Coca-Cola Company has pushed digital printing to the next level with the Coke Extraordinary Collection—2 million bottle labels, each one with its own graphic design. Coke launched the program in Israel in summer 2014 with its 0.5- and 1.5-L PET bottles and 33-cL glass bottles of Diet Coke.
The project was made possible through close collaboration with digital press supplier HP Indigo, which Christian Menegon, Worldwide Business Development Manager for HP Indigo, says was challenged by Coca-Cola to stretch the limits of digital print technology. "When the Share a Coke campaign was on the shelf, they saw the ability of print with some mass customization, and they wanted to stretch the technology one step further," he says. "Basically the idea was that they would be able to give each and every consumer something different. So even though the liquid inside was the same, and the bottle was the same, the decoration would be different for each person."
To enable the printing of the 2 million different designs, HP Indigo created a software algorithm that allowed 25 base patterns to be randomly stretched, cut, rotated, and otherwise manipulated before being printed on an HP Indigo WS6000 high-volume digital press. "It was not just a matter of changing data," says Menegon. "It was printing all of the artwork in a different pattern at production line speeds. So it was really a stretch, but it worked."
Label designs were created by Coke and HP Indigo using geometric patterns and splashes of color. A number was printed on each label, and that data was saved, so that consumers could order online other items, such as t-shirts and phone covers, bearing their personalized Coke design.
As Menegon explains, the WS6000 press was selected for the job for several reasons. Being digital, it has the ability to print one single label—in this case, 2 million times one. "It was not one order of two million, but 2 million orders of one, which obviously can only be done by digital," he says. The press also needed to be able to accommodate both wraparound and shrink-sleeve labels, used for the PET and glass bottles, respectively, using the same four-color inks.
Two processes were used to print the labels. For the wraparound labels, polypropylene material was printed with a metallic base, using gravure printing. The digital press then printed four process colors on top of the base. Shrink-sleeve labels, made from PET, were reverse-printed entirely on the WS6000 in four colors, plus two layers of white. Israeli converter Sheler (972-8-9221450) printed the 2 million labels, operating the press at a speed of 90 ft/min.
As mentioned, the Coke Extraordinary Collection launched in summer 2014, but due to the Israeli/Palestinian conflict taking place at the time, the campaign got a lower-than-expected response from consumers. Despite this, Menegon says, the international design community did sit up and take notice: "The whole Coca-Cola world has seen it, and designers have seen it, and they found it just amazing. Even their competitors, all the big names in the industry, can't believe that Coca-Cola was able to do this.
"For the packaging industry, which is typically static and reliable and working 24/7, 365 days a year, all of a sudden, it's a completely different world. I think Coca-Cola took a risk, but they dared to do it. They really opened the door to a place where the sky is the limit."
While Menegon says he is not aware of any current plans by Coca-Cola to expand the Extraordinary Collection elsewhere in the world, he has no doubt it will happen at some point. "The word has spread around the world," he shares. "I can predict that maybe not next year, but the year after, you will see more and more of these campaigns."
Watch additional video related to this article at pwgo.to/1153.
Companies in this article