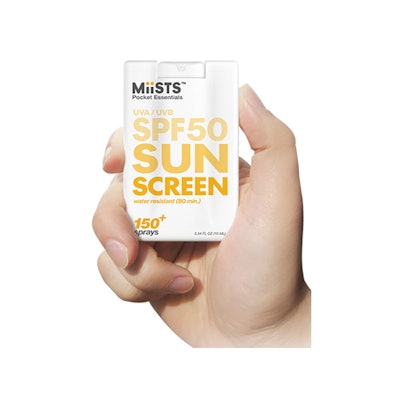 The inspiration of Miists CEO Alex Meyers, the MiiSTS Pocket Essentials brand was created as an alternative to the bulky bottles used for travel items such as mouthwash, hand sanitizer, hairspray, and others.
"I created MiiSTS after realizing, and becoming frustrated with, the lack of flat packaging for liquids," says Meyers. "'Travel size' was not always 'carry size' to me. I started to look at different packaging and became convinced I could do better."
To develop the packaging and branding for MiiSTS, Meyers partnered with industrial design firm HotpotDesign. Explains Hotpot, "MiiSTs sought to reinvent the bottle and how consumers carry personal care products. The project began by solidifying a cohesive brand identity with a design plan: work with plastics and injection tooling experts to develop a portable, leak-proof bottle. Numerous prototypes were developed to ensure the MiiSTS bottle would be unique and cost-effective, and could be manufactured without complicated assembly."
Among Meyers' expectations for the package, he wanted something similar to "a very common credit-card bottle that is being used by many promotional companies in the marketplace," he says. However, he wanted something that could hold as much liquid but be half as thick. The bottle also had to be made out of polypropylene so that it could accommodate virtually any liquid product.
The resulting bottle is ultra-slim—just 5 mm deep at its thinnest point—and is fitted with a pump housing that allows the user to spray the product and renders the package leak-proof. Holding 11 mL of liquid, the bottle provides up to 150-plus sprays and is shelf-stable for up to several years "if stored in the proper conditions," advises the company. The package is recyclable when the pump housing is removed.
In branding the product with packaging graphics, Hotpot and Meyers sought a design that would be as clean and modern as the structure itself. Says Meyers, "I am a fan of products that look modern but are simple to understand and not overdone with graphics and wording, and I wanted MiiSTS to follow this line of thinking."
Another consideration for the design was that it had to be universal, consistent, and attention-getting enough to work in a number of retail environments, including travel, convenience, sporting, and gift stores, among others. Thus, labels are simple in design, using a consistent placement of information—including the MiiSTS logo, the product type in large letters, and the "150+ sprays" wording. Bright, monochrome color schemes against a white background differentiate the products.
Says Hotpot, "We really wanted to add a unique user experience and humor when opening the [secondary] packaging by adding an icon and saying for each spray that is revealed when opened." For example, the paperboard box with hangtag and full die-cut front panel for MiiSTS Shaping Hair Spray tells the consumer, "You look great!"
MiiSTS is currently available in nine varieties, covering every travel necessity from stain remover spray to sunscreen. The product line was introduced at the 2014 Travel Goods Association Show in March and is currently available in several major retailers and high-end travel and gift stores, including Bergmans Luggage, Brookstone, Flight 001, and others in single bottles or in 12-count cartons.
Companies in this article