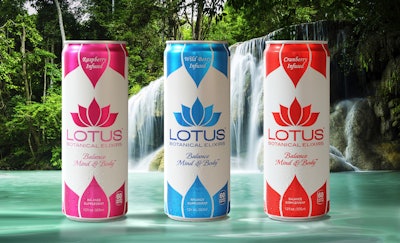 The new Lotus Botanical Elixirs beverage in three varieties has been formulated to restore balance to consumers faced with a hectic and fast-paced world. Featuring lotus flowers in "adaptogenic" botanical fusions, the drinks are naturally sweetened, lightly carbonated, and naturally caffeinated, and are available in raspberry, cranberry, and wild berry-infused flavors. To convey the bright and iconic lotus flower graphics on its can packaging, Lotus Botanical Elixirs have launched in 12-oz Rexam Sleek® can with tactile printing.
Used in Egyptian, Chinese, and Indian medicine for thousands of years, adaptogens are a group of botanicals believed to help restore balance to the human system, strengthen the body's response to stress, and enhance its ability to cope with anxiety and fight fatigue. They are called adaptogens because of their ability to "adapt" their function according to the body's specific needs to normalize imbalances.
"Stress creates imbalance in the body, resulting in a wide range of physical and emotional symptoms, including low energy, anxiety, irritability, and lack of sleep, focus, and performance," says Scott Strader, CEO and founder, Lotus Botanical Elixirs. "Functional drinks address the symptoms of imbalance, Lotus Elixirs address the cause of imbalance."
Lotus Botanical Elixirs chose cans that utilize Rexam's tactile printing technology, featuring a raised and textured portion that offsets the reflective, bright colors of the can design."The challenge for us was to convey the iconic lotus flowers with vibrancy and artistic integrity on an aluminum can," says Strader. "We took great pains to design a simple, clean package that would highlight the premium quality of our product. Rexam's unique tactile finish creates a texture on the can for an inviting feel that creates an instantaneous relationship when you hold it in your hand. We have already gotten tremendous feedback from customers who comment that every can should have this great feature."
The company says it also benefits from the inherent advantages of aluminum cans, including portability, durability, and sustainability.
Lotus Botanical Elixirs are currently available in many natural and specialty retail outlets in Southern California, with plans for continued expansion.
Companies in this article