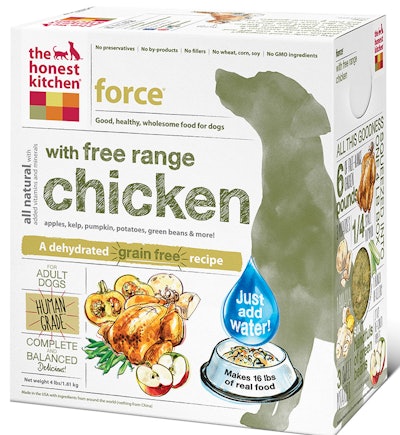 The Honest Kitchen, the only FDA-approved maker of natural, human-grade, dehydrated pet foods, is passionate about creating "Proper Foods for Pets," meaning products that are real, honest, healthy, natural, and tasty. So when it came time to refresh its package graphics in order to take its product to the next level, it sought a design that would communicate the company's point of difference, with a strong emphasis on the natural ingredients used in each formulation.
"We wanted the packaging to evoke a very natural, culinary look and feel to play up the beautiful ingredients we use in our human-grade products," says Lucy Postina, founder and CEO of The Honest Kitchen.
The Honest Kitchen's existing packaging graphics, which had been used for years and had helped the company grow from a startup to a nationally recognized brand, consisted of single-color palettes for each variety, with an animal silhouette on each pack. Copy was minimal. To grow its brand, the company knew it needed to step-up its package design.
To develop the new packaging system, in 2013 The Honest Kitchen turned to design and innovation firm Bulldog Drummond, a long-time partner that early on had helped The Honest Kitchen shape and define its growth strategy. According to Bulldog Drummond CEO Shawn Parr, in addition to wanting more focus on natural ingredients, The Honest Kitchen also wanted the new package graphics for its paperboard cartons to have:
• An overall more "natural presentation"
• A color-coded system to help consumers easily navigate on shelf
• The inclusion of new language and a new messaging hierarchy
• New illustrations of the company's office dogs
To inform its design strategy, Bulldog Drummond undertook an in-depth consumer study in collaboration with research firm Alternate Routes, which helped the design firm understand what was most important to consumers when it came to selecting The Honest Kitchen's products.
Artisan attitude
The resulting package design, used for eight dog-food recipes (20 SKUs) and four cat-food products (four SKUs), includes hand-drawn illustrations and copy that convey an artisan feel, and clear product benefit communications.
Instead of solid-color graphics, the new package design uses a white background "that allows the foreground elements to pop," explains Bulldog Drummond Chief Content Officer Megan Pilla. Among the hand-drawn illustrations by artist Natalia Zahn on the front panel are a silhouette of a cat or dog, printed in a single, subtle hue and rendered with a watercolor-like feel, and a central image of the meats, fruits, vegetables, and grains contained in each recipe. For example, zeal dog food, made with wild caught fish, uses a teal color code for the dog silhouette and copy, and features an illustration of a whole fish, sweet potatoes, coconut, parsley, and pumpkin.
Also hand-drawn is a "Just Add Water" icon—showing a bowl of pet food with a giant drop of water above it—that identifies the method of preparation for the dehydrated food. Copy on the food bowl indicates that the 4-lb carton "Makes 16 lbs of real food." Other callouts on the front panel indicate that the product is "grain free" or "whole grain," "human grade," and "all natural."
"We're placing a heavy emphasis on the meat or fish source in each recipe, clearly defining the life stage, and differentiating the grain-free from whole-grain diets, to help shoppers more easily select the recipe that's right for their pet."
Adding a personal touch to the package design, the back panel features a drawing of a cat or dog owned by a company employee, and hand-written quotes from The Honest Kitchen's founder.
The cartons are printed in four-color process and use a matte finish that provides a more natural look and feel, relates Zahn.
Retailers, consumers rave
New packaging for The Honest Kitchen's dog and cat foods was launched on shelves in March 2014 in specialty pet stores around the country, meeting with an enthusiastic response.
"Retailers and consumers alike have raved about the new packaging," says Bulldog Drummond's Parr. "There is near unanimous agreement that the packaging is new, fresh, and exciting, and truly stands out from the other retailers on-shelf, clearly and proudly communicating what The Honest Kitchen stands for and believes in when it comes to the health and happiness of pets."
Companies in this article