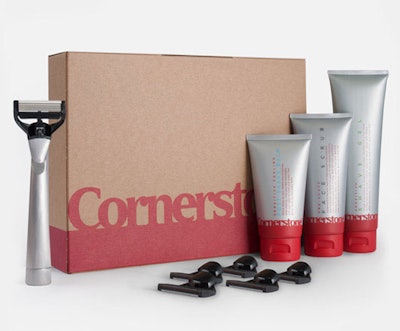 Start-up brand Cornerstone has introduced a new concept to the male grooming market in the UK. Cornerstone has developed its own razor and collection of men's shaving products and sells the range over the Internet via a subscription model. Cornerstone describes the concept as the "perfect shave on a flexible, regular subscription."
A key part of Cornerstone's strategy is to target customers who are time-poor but who place value on high-quality, well-designed products. This meant the packaging had to be able to withstand the tough conditions of the postal system—a key part of the e-commerce supply chain—but would deliver a unique and eye-catching brand experience when landing on consumers' desks or doorsteps.
Taking into account the importance of the packaging, Cornerstone worked with carton converter Alexir Partnership and branded packaging specialists Path Designs to develop a carton that was not only structurally sound, but could also be used to display the products at their optimum. A locking tab is included on the bottom of the inner carton to prevent it from fully detaching from the outer carton. Two sections on the glue flap are left glue-free to allow the tabs to slip underneath and lock in. Due to the thickness of the kraft board, the cartons were run through the machine twice to position the glue. As a result of this locking mechanism, the Cornerstone products can be presented to the customer in an attractive box with the Cornerstone branding at equal height from the bottom of each product. It also means the box can be easily re-assembled to make it easy for customers to carry.
According to Alexir, the key challenge involved sizing up the 10 components (including outer and inner cartons) to fit onto one print sheet with no structural consequences. Packaging engineers worked directly with the commercial department, and a solution was delivered back to Cornerstone. The project took a total of nine months and entailed close collaborative teamwork between Cornerstone, Path Design, and Alexir.
Says Scott Wilkins, Senior Sales Manager at Alexir, "The design and production process for the Cornerstone pack was problematic in that we had cost implications that could not have a detrimental effect on the structure or appearance of the pack. Two arms of the business were fundamental in making sure that we achieved this."
Cornerstone founder and CEO Oliver Bridge adds, "The design of our packaging is a crucial component of the brand, and we're delighted that we were able to develop something that looks great but which didn't compromise on quality. Alexir worked hard to find creative solutions to the various technical problems we encountered—we couldn't be happier with the result."
Cornerstone launched its subscription service on June 5, 2013.