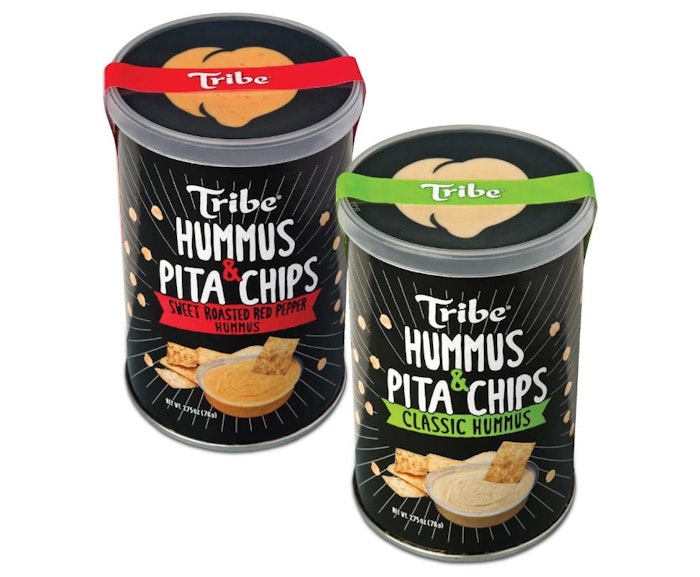 Have a hankering for healthy snacks on the go? If so, you're not alone. According to the 2013 "Healthy Snacking" study from Mintel, 65% of snackers are interested in healthy snacks, with 36% of snackers eating their snacks on the go. Addressing this market, as well as the spectacular spike in sales of hummus snacks—up 77% this year in units sold—Tribe Mediterranean Foods, Taunton, MA, has introduced a handy, backpack- and cup holder-friendly Hummus & Pita Chips snack pack in two varieties.
"Innovation is crucial to Tribe's success," says Tribe CEO Adam Carr. "We're consistently looking to create products that best serve the taste buds and lifestyles of our consumers. Our new To Go pack allows us to be more mobile and not only play in snack-heavy spaces, but also stand out as a smarter, more healthful option."
The 2.75-oz Tribe To Go snack pack stands out in the refrigerated snack section in a composite paperboard container with an eye-catching black background, chosen to align with graphics for its dip packaging. Explains Margie Lewis, Assistant Brand Manager for Tribe, "We wanted to stay close to our eight-ounce Tribe line so consumers would recognize the brand in other unexpected locations," such as convenience stores, airports, and movie theaters.
Designed by Vessel Ideation, graphics on the pack include the established Tribe logo, the casual, almost hand-drawn font of the 8-oz pack, a variety banner, and illustrations of chickpeas—in this case a veritable explosion of Garbanzo beans surrounding the copy and an image of pita chips and dip on the front panel.
The can is covered by a clear plastic pop-top lid, under which is the hummus dip container. The thermoformed cup from Winpak rests on the top edge of the can and is covered with film printed in black except for a see-through area in the shape of a chickpea, allowing consumers to see the hummus inside. Underneath the hummus dip cup is the bag of pita chips, printed in a black matte background, with playful copy and illustrations in white of different chip-dipping styles. Among them, "The Last Bite," "The Helicopter," and the "Sinker Recovery." Says Lewis, "We wanted our pita chip bag to stand out, and so we designed it around the fun and unique styles of dipping."
Covering the lid is a strip of tape—printed in red for the Sweet Roasted Red Pepper Hummus variety and green for Classic Hummus—that provides tamper-evidence as well as further branding, decorated with the Tribe logo.
Tribe introduced the product in July, with a suggested retail price from $1.99 to $2.99, in retail and grocery stores such as Stop and Shop, Albertsons, and Jewel, and plans to expand to other venues by year-end.
Companies in this article