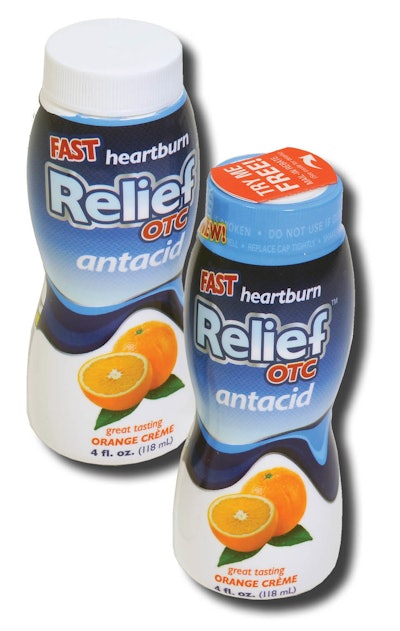 Relief OTC™ is an FDA-compliant, over-the-counter antacid that combines proven ingredients in a convenient portable bottle. Taken only when needed, Relief OTC™ gives consumers a clear, great-tasting liquid that provides instant pain relief while other brands competing in this market offer thick, chalky solutions.
With recalls of several popular antacids in this $7.6 billion industry, many consumers are switching to different brands. There are many attributes that consumers seek when shopping for an antacid product. Research has shown that heartburn sufferers are looking for something that is fast-acting, with few or no side effects and easy-to-use. Relief OTC™ kept all of this in mind when working with Mold-Rite Plastics and TricorBraun to design their unique, innovative packaging.
In an effort to offer an easy solution for customers, the Tummy Company worked with the packaging experts at TricorBraun to develop a unique custom package that would work with a Lift N' Peel® liner from Selig Sealing Products and be tamper-evident. After evaluating closure options and realizing the added benefits of production line efficiencies and compliance with the Lift N' Peel liner, TricorBraun designers selected Mold-Rite Plastics' 33 mm ribbed side, smooth top continuous thread closure to complete the package.
"TricorBraun and Mold-Rite Plastics' customer service is superior to the competition. They worked with us from the beginning, even before the company was prepared to introduce Relief OTC™ to market. They were true partners throughout the product development process," notes Jim Marini, President & CEO of Tummy Company. "Since we have gone into production, TricorBraun and Mold-Rite Plastics have provided outstanding service and flexibility, making it easier for our company to focus on further expansion in the industry."
The Relief OTC™ package combines a continuous thread closure with a Lift N' Peel liner giving the bottle an updated look while providing a tamper-evident feature. For additional safety, an external tamper-evident sleeve covers the closure and offers an option to add promotional messaging to the top of the package. These features combine to make Relief OTC™ stand out on the shelf.
"Knowing that tamper evidence and added safety were essential, combined with the need to offer promotional opportunities as the new package was introduced to the market helped us to recommend the right closure and liner options for Relief OTC™," said Christina Campbell, sales director at Mold-Rite Plastics.
"Watching Relief OTC™ grow from concept to store shelf has been a rewarding process," stated Mike McQuilliams, packaging consultant at TricorBraun. "Thinking about packaging early in the product's development helps us to not only fully understand the package's requirements but also deliver shelf impact which is particularly important when entering the market."
The Tummy Company's goal was to provide unique packaging that represents Relief OTC's innovative ideas, and that is exactly what they did. MRP's CT closure gives consumers a simple way to consume the product with its easy-to-open ribbed closure, which worked well with a Lift N' Peel liner. Relief is as simple as open, drink and done.
Companies in this article