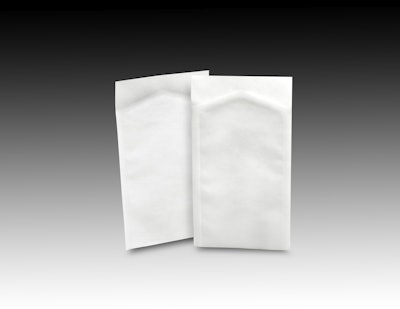 Ghost™ is a technology that creates an integrated, repeating watermark embedded in a flexible or semi-rigid package or in a package that uses a tray with a flexible lid to address counterfeiting and ensure brand protection. It has earned a Flexible Packaging Assn. Gold Award for Technical Innovation and a Silver Award for Packaging Excellence for its creator, Rollprint Packaging Products, Inc.
Introduced at Pack Expo Las Vegas 2013, Ghost is compatible with a wide range of materials, including polyethylene, polypropylene, and polyester. It's been proven with clear and opaque structures, and foil composites. Ghost also works with a variety of structure thicknesses, and the watermark is added during the extrusion process of one of the layers in the structure, often the sealant.
The Ghost technology is compatible with aluminum foil structures, with Rollprint's ClearFoil® clear high-barrier materials, metallized materials, or standard materials such as polyester, nylon, or oriented polypropylene. Sealants can be welded or peelable and employ a wide variety of chemistries.
Since the watermark is added concurrently during normal processing. Rollprint says it can be produced with little added cost, making it a cost-effective tool. The watermark helps support brand identity and provides visual confirmation that the products being used are authentic.
It does not require additional ingredients or additives, eliminating product compatibility concerns and allowing it to be used with existing structures. It also has no impact on the final packaging process, Rollprint says.
The key to creating the watermark, explains Rollprint's Dwane Hahn, Vice President of Sales and Marketing, "is differentially cooling the extrudate precisely enough to create a crisp, distinct image. That was the true challenge and what will thwart counterfeiters."
Rollprint performs all of the manufacturing steps and can provide the material as rollstock or as premade pouches. Ghost structures can be flexo- or gravure-printed in-line during the packaging process, or left unprinted. Rollprint would ship either rollstock or premade pouches to its customer. And while Ghost is currently being produced and sold, an end-user open to discussing how they use the technology could not be identified at press time.
Counterfeit protection
The key advantage that Ghost provides is brand identity and protection and identity. According to Rollprint, brand protection is a critical issue for brand owners. "Counterfeiting of pharmaceuticals and medical devices has become an international epidemic," notes the company. "The World Health Organization reports that more than eight percent of the medical devices in circulation are counterfeit and more than 10 percent of global pharmaceutical commerce is counterfeit. U.S. Customs reported that knock-off medical devices and pharmaceutical products accounted for nine percent of all seizures in 2012. Counterfeit products pose a very real threat to public health and a significant liability to manufacturers.
"Attempting to duplicate the watermark requires specialized equipment with knowledge of proprietary, advanced technology, coupled with significant financial investment—a particularly challenging hurdle for counterfeiters to attempt.
Brand owners have the flexibility of using corporate logos, brand names, or other symbology for the easily visible, overt watermark. This helps support brand identity and provides visual confirmation to the user that the products being used are authentic."
Ghost can also be coupled with other established techniques such as forensic markers or taggants, micro-printing, and holographic options creating the recommended layered approach to addressing counterfeiting and product diversion. For high-risk products, brand owners can create a "moving target." Because the design of the watermark can be changed inexpensively, the design can be updated regularly and tied to a lot or range of serial numbers. This additional layer of protection aims to further confound counterfeiters.
From a package design standpoint, because the watermark is made with precise control during the cooling, it create a sharp, distinct image rather than just a smear. With this proprietary technology, complex line work and type as small as 4-pt is crisp and legible. Ghost provides a subtle image that reinforces the brand. It can be used with clear material to allow product visibility or with a foil structure to create a high-end watermark look.
The watermark is said to have no impact on sealing properties. The watermarked material sealed at the same temperature, pressure, and dwell conditions will yield statistically the same seal strength as material with no watermark, Rollprint says. Ghost does not interfere with hermetic seals and the quality of the seal is unchanged.
Rollprint says Ghost "can have a positive impact on both the economic and social pillars of sustainability. The contribution this structure makes to the environmental pillar of sustainability will be primarily impacted by the final material construction chosen."
Bottom line: Ghost is designed as an inexpensive approach to brand protection that provides a cost-effective tool in the battle to prevent counterfeiting.
"Counterfeit products and, in particular, counterfeit medical devices and drugs can result in serious adverse health effects including potentially lethal consequences," says the Ghost FPA entry form. "Those in the developing world are most at risk to being a victim of a counterfeit product. The World Health Organization estimates that 25 percent of medicine sold in poor countries is counterfeit and that in some sub-Sahara and South American countries the number is as high as 40 percent. Brand protection solutions that do not adversely affect cost are one of the keys to providing the developing world tools to combat counterfeiting. The economic cost of counterfeiting to brand owners and ultimately consumers is considerable. Estimates for the counterfeit drug market alone range from $75 billion to $200 billion."
Companies in this article