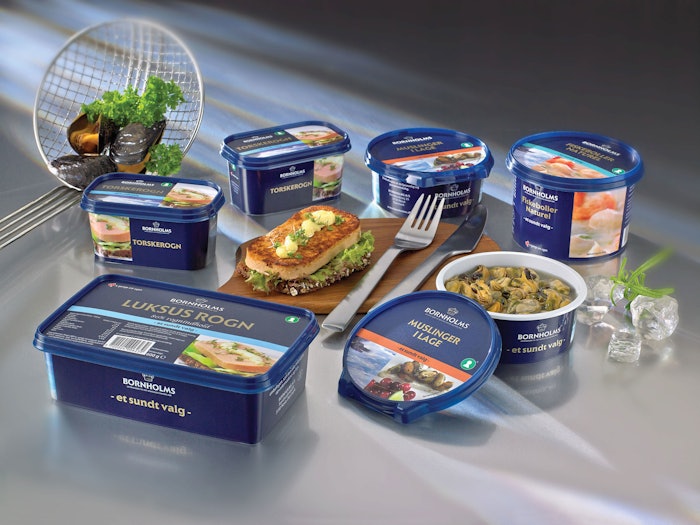 In the Baltic Sea about 100 miles southeast of Copenhagen sits the 227-square-mile island of Bornholm. Called Denmark's "sunshine island," it's famous for its white beaches and round churches. On its east coast is a town called Nexoe, home to Bornholms A/S, a firm that has been producing and developing canned seafood products since 1915.
Now Bornholms is pioneering a whole new container that isn't a "can" at all—even though it behaves a lot like one. It's a coinjection-molded container with one oxygen barrier layer coinjected into its sidewall and a second oxygen barrier layer in the coextruded in-mold label that is applied during the coinjection molding process. The award-winning container is made by RPC Superfos in four formats:
• 200-g rectangular for cod roe or other spreadable fish products
• 200-g round for mussels or shrimp
• 400-g round for mussels or fiskeboller (fish dumplings)
• 600-g rectangular for foodservice or catering accounts
All fish products packaged in this innovative container go through a retort, and ambient shelf life as a result is three years. No wonder the package has been named a winner of both a Scanstar 2013 and a Worldstar Award.
Bornholms' launch of this breakthrough package is impressive not only from a material composition standpoint. The firm also has invested extensively in automated package handling and packaging equipment as it seeks to replace metal packaging completely at its Nexoe facility, where aluminum cans with a ring pull opening have been in use for some time. A Bornholms plant in Iceland will continue using traditional aluminum packaging for the smoked cod liver that it produces. But it's bye-bye metal at the Nexoe facility, where two new lines have been installed. On one line, the 200-g round, 400-g round, and 600-g square are all produced, while the other line is dedicated to the 200-g rectangular container.
In each case the container is a five-layer coinjection of PP/tie/EVOH/tie/PP. Benny Elo Nielsen, Executive VP & Technology Director at RPC Superfos, chooses not to identify the precise makeup of the EVOH/PP labels that Superfos applies nor does he identify the label supplier. But he does indicate that the coinjection molding machinery is from BMB (www.bmb-spa.com). Nielsen describes this package as a significant achievement that was about three years in development. "The hardest part was identifying the right polypropylene resin that would withstand the retort for 2 hours at 117 degrees C," he adds.
Into the filling line
We get a good feel for how sophisticated and automated the Nexoe plant is by focusing on the line that's dedicated to 200-g rectangular containers for fish roe. The coinjection-molded containers arrive at the Bornholms plant nested in stacks. Operators remove them manually from corrugated shippers and place them on a conveyor line that leads to an eight-nozzle in-line Ilpra volumetric filling/sealing system. (On the other line, a combination scale is used for mussels, shrimp, and fish dumplings.)
Before exiting the Ilpra system, an aluminum foil lidding material is heat-sealed to the container flanges, and then the containers pass through what Christian Sieverts, Bornholms Managing Director, calls a very sophisticated X-ray inspection system from Innospection.
"When you do shelf-stable products, you must make sure that every container leaving your plant is closed correctly," says Sieverts. Bornholms, he says, relies on the consistency of the Ilpra machine for a good seal of foil to flange and then backs it up with X-ray inspection of 100% of all sealed containers.
Once the foil lidding is applied and seal inspection is complete, it's time for the packages of fish products to go through the retort process that, in tandem with the barrier properties of the container, gives these packages their three-year shelf life. An ABB robot picks layers of containers and places them one layer at a time in wheeled retort baskets. These are wheeled to the retort systems, one of the few parts of the whole packaging/processing operation that didn't need to change much as Bornholms went from metal to plastic containers.
The retorted containers are then cooled and stored overnight in their retort baskets. On the next day, the baskets are wheeled to an ABB robot that picks containers layer by layer from their retort baskets and places the layers on a conveyor belt leading to a machine that applies overcaps.  Also supplied by RPC Superfos, the overcaps are injection-molded PP with in-mold labels. Overcapped containers are case packed by a wraparound case packer supplied by Sotemapack. Date codes are applied by a print-and-apply labeler.
The final piece of automation in the line is a robotic palletizer, which is also powered by an ABB robot. It builds two pallets simultaneously, with one product on one pallet and another on the other pallet.
Sustainability points
Sieverts believes this new packaging format is environmentally friendly because it can be collected in the well-established recycling systems that are common in Europe and then incinerated in a waste-to-energy play. He also sees it as more contemporary looking than steel or aluminum cans, largely because of the high-impact graphics that can be achieved with in-mold labeling. And because it has a snap-fit overcap, it can be reclosed and kept in the refrigerator for three or four days. Just as important, he points out, is that the consumer pays no upcharge for the plastic container compared to conventional aluminum packaging.
Now available in Denmark and the UK, the innovative package will be exported to additional European markets throughout the year. When asked what he makes of the whole process behind this ambitious launch, he describes it as "Exciting, nerve-wracking, expensive, and long." But he also adds this.
"Both we and Superfos spent a lot of time listening to consumers before moving ahead with this. We don't see it as a gamble but rather as an investment in the future. We're big believers in this package. It's the next-generation can."
To see a spin + zoom 360° photo, click here.
Companies in this article