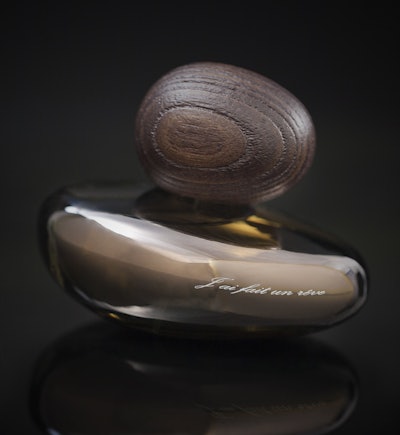 For luxury French perfumer Majda Bekkali Parfums, product packaging is an integral part of the sensory experience of each fragrance. "The emotional power of scent extends to encompass visual beauty and tactile pleasure, where art is a form of sensory exploration," says founder Bekkali.
To this end, each year the company enlists selected sculptors to create a perfume bottle sculpture on a particular theme. The Olfactory Sculpture collection includes individually numbered glass perfume bottles with uniquely designed stoppers.
In September 2013, Majda Bekkali introduced J'ai fait un rêve, translated as "I have a dream," for men and for women, created around the scents of spicy pink pepper, and jasmine and orange blossom, respectively. The package sculpture is organic—smooth and rounded like a stone—and is topped with a complementary egg-shaped closure made of ash wood.
The natural wood cap was supplied by Pujolasos of Spain. Says company CEO Angel Pujolasos, "The challenge was to adapt wood technology to sculpture. We worked in deep collaboration with the customer on a great variety of designs and finishes."
The final design of ash wood has a dark, chocolate-colored Wenge stain, and fits a standard neck finish of 15 mm (the bottle itself comes in a 50- and 120-mL size). Relates Isabel Pujolasos, Sales Manager for the supplier, "The erosion of the custom cap guarantees the look, touch, and feel of the sculpture."
According to Angel Pujolasos, while the cost for wood closures can be higher or lower than more traditional glass, metal, or plastic caps, depending on the sophistication of the wood, turnaround time is significantly shorter. "Because we don't have to use molds, we can save from three to six months in this process," he says.
For Majda Bekkali, cost was less of an issue than aesthetics. A quick check of Internet fragrance sellers shows prices for J'ai fait un rêve of up to $225 for a 120-mL bottle.
Companies in this article