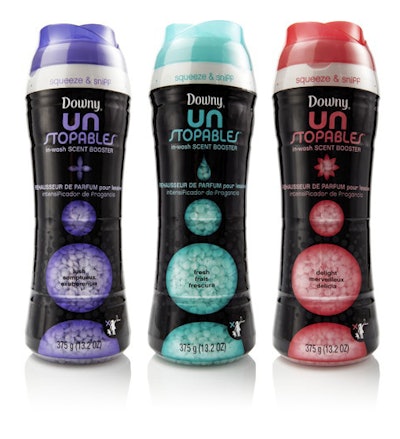 Shrink sleeves offer a fully maximized packaging canvas for shelf impact, branding, marketing, and product information. There is a premium price for these advantages, but if you factor in—and take advantage of—all the capabilities and secondary savings, switching to shrink sleeves can be a cost-effective way to invigorate your packaging.
1. Do you have a contoured package? First, the package must have a contour for the shrink to hold on to, so to speak. If the package isn't contoured, production has to add one or two adhesive points. This may not sound complicated, but it adds another operation to the mix. In addition, an adhesive may detract from the quality of experience delivered to the consumer.
2. Can you incorporate tamper-evidence? Shrink sleeves can do double-duty because they can easily incorporate tamper-evidence in top-opening packages. Tamper-evidence is easy as a concept, but it's a sophisticated process in reality. Find someone knowledgeable about tamper-evident seals to make sure you are complying with standards and regulations.
3. Should you go for clear? Don't be so easily tempted to go clear. There are competing market forces at work here. Brand managers and marketers want to show the product through windows in the package. However, clear areas of shrink sleeves often reveal imperfections in the material, variations in the production process, and less-than-perfectly-clear substrates. If showing the product inside is not a priority, flood the substrate with white first to achieve the best brand accuracy and presentation.
4. Can you rein in elaborate design platforms? The more elaborate and precise the graphic designs on the label, the fewer margins for error there are with shrink sleeves. If the position of the shrink is a little off, or the shrink process shrinks the label unequally sometimes, the slight "off-ness" can be very noticeable to the shopper. It's important to avoid geometric shapes, proportional graphics, and realistic photographic scenes.
5. Do you know the cost trade-offs? One shrink-sleeve label often replaces two pressure-sensitive labels. Though the base material costs may be less at high volume with shrink, the labor and processing costs will often be higher. The shrink sleeve-label printing, preparing, and applying processes involve more steps, more machines, and more labor. More difficult to calculate is the potential savings of eliminating tamper-evident seals, removing colorants from bottles, lightweighting, or reducing UV inhibitors that become unnecessary with shrink sleeves.
6. Are you willing to pre-decorate the labels? One of the hard-to-quantify savings for shrink sleeves comes from stocking fewer pre-decorated containers. This can be significant for brands with a variety of SKUs, because they can stock fewer containers—and fewer shapes—and have all the branding, varietal, seasonal, and benefit information on the shrink sleeves.
7. Do you need more space for product information? Combination labels are becoming more and more practical. For even more information space, consider adding an extended-content, pressure-sensitive or tape-applied label on the shrink sleeve.
8. Do you know your copacker's capabilities? Get production-level samples of the stock or custom bottle that you will use. Talk to the production engineers. Perform test runs with actual samples and labels. Learn the limitations and variability parameters of the production line.
9. Should you invest in distortion design programs? Distortion design is part science and part art. Prepress for shrink is a vastly different discipline than for other print substrates. The fact is, your printer's in-house design knowledge and software may be a safer bet than going on your own with a third-party distortion software provider. But make them prove it. And, if possible, use 3D visualization software to proof before production and to verify final packages.
10. Have you budgeted time and cost for testing? Sometimes, you have to learn by doing—and by making mistakes. If shrink sleeves are a new realm of discovery for your brand, plan for a less-than-steep learning curve.
Liked this article? Download the entire playbook here.