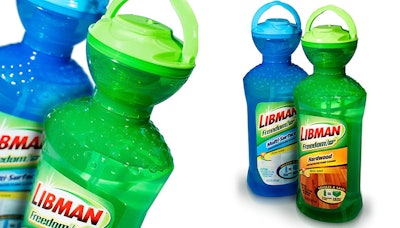 A family-owned manufacturer of household cleaning tools, The Libman Company of Arcola, IL, has expanded its line of mops and brooms to include complementary cleaning solutions. As part of this initiative, Libman developed a citrus-scented product, Freedom! Hardwood Concentrated Floor Cleaner, for use with its Freedom Spray Mop. The mop features a detachable, 18-oz refillable bottle that dispenses cleaning product diluted with water through a trigger sprayer. To properly dose the mop, the new concentrated floor cleaner product had to be dispensed in 1-oz portions—a major packaging design challenge, according to packaging supplier Berlin Packaging.
In investigating alternatives, Berlin's Studio One Eleven Design division determined that stock pump solutions for the product's 16-oz custom PET bottle would require a cumbersome eight-pump process. High-output pumps were not an option either, says Berlin, because they would visually overwhelm the bottle size. Removable dosing caps would be prone to loss, and custom-built solutions requiring special preform and neck fitments would be cost-prohibitive, for a variety of reasons.

These factors led the team to recommend and design a custom, hangable, fitment-free closure with a built-in squeeze-activated dispenser capable of measuring the correct dose and accommodating a standard neck finish.
As Berlin explains, the proprietary closure assembly features a translucent green measuring chamber that screws onto the squeezable PET bottle. The vacuum-sealed dosing chamber visibly fills to a 1-oz level through a dip tube as users squeeze the bottle, and returns excess product to the bottle cavity to avoid over-dispensing. When the chamber is full, the consumer simply flips the cap open and pours the cleaner into the bottle attached to the Freedom mop, where it is diluted with water.
According to Libman, one 16-oz concentrated cleaner bottle provides enough solution to fill the spray-mop tank 18 times, a savings called out on the front-panel label with the words, "Squeeze & Save!" The custom bottle and cap is also used for another Freedom! cleaning product, Multi-Surface Concentrated Floor Cleaner, bottled in a blue PET with complementary blue cap.
Companies in this article