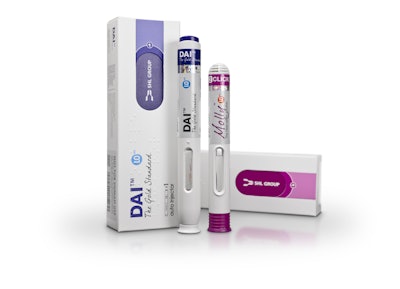 SHL (Scandanavian Health Ltd.) manufactures advanced drug delivery systems such as pen injectors, auto injectors, inhaler systems as well as other medical products designed to improve patients' personal usage options. Product design plays an important role by increasing ease of use and lowering the hurdle for patients to use the injection systems in public.
Recently, the company addressed those needs when its autoinjectors were outfitted with specialty labels from Schreiner MediPharm. The labels deliver a unique look to SHL's autoinjectors, as well as additional integrated functionalities that enhance convenience and safety.
Established in 1989 by Swedish entrepreneurs Roger Samuelsson and Martin Jeff, SHL offers its customers integrated solutions across the entire process chain from design and development through the manufacturing process including final assembly, labeling, and packaging. For SHL Medical's DAITM and MollyTM devices, Schreiner MediPharm developed customized sample labels for demonstration of the autoinjectors to pharmaceutical manufacturers.
"The development and manufacturing of autoinjectors up to serial production is a complex process. The multi-functional marking solution by Schreiner MediPharm underscores our aim to continually innovate at all levels and provide the best solutions for our partners," says David Markham, SHL Project Manager.
"The specialty labels make customized branding possible and thus emphasize the manufacturers' brand presentation. Thanks to integrated features the label adds further value," says Gene Dul, President of Schreiner MediPharm U.S. The anti-slip varnish improves grip and avoids slipping during the injection. A detachable label part is integrated for documentation of the medication. For brand protection, the label is equipped with a hologram, and a printed QR code allows users to directly access the manufacturer's website to receive further information, such as a demonstration video.
Companies in this article