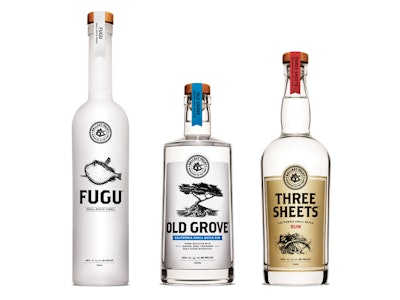 "Packaging is particularly important in telling a distiller's brand story and helping to make an emotional connection with consumers," says Scott Mires, partner and creative director of MiresBall, which develops brand strategy for Ballast Point's craft beers and spirits. "Bottles and labels must speak volumes for the brand, often in very sparse visual language. For Ballast Point, it is craft spirits that are of premium quality produced in small batches, with an authentic dedication to the craft."

The Ballast Point bottles, which reflect a unique interpretation on the traditional style for spirits, project the craft, small-batch feel of the brand and help to set the spirits apart on retail shelves. Illustrations by local artist Paul Elder, whose work has adorned Ballast Point's craft beer bottles since the company's start in 1996, further distinguish the spirits by emphasizing the company's nautical heritage and founders' passion for fishing with memorable naming.

"We are well-known for our beer, but distilling is a new adventure for us," says Yuseff Cherney, Ballast Point's Co-founder and Head Brewer/Distiller. "Our family of spirits has accumulated some great recognition and awards, and we wanted a package design that demonstrates this is a premium product."