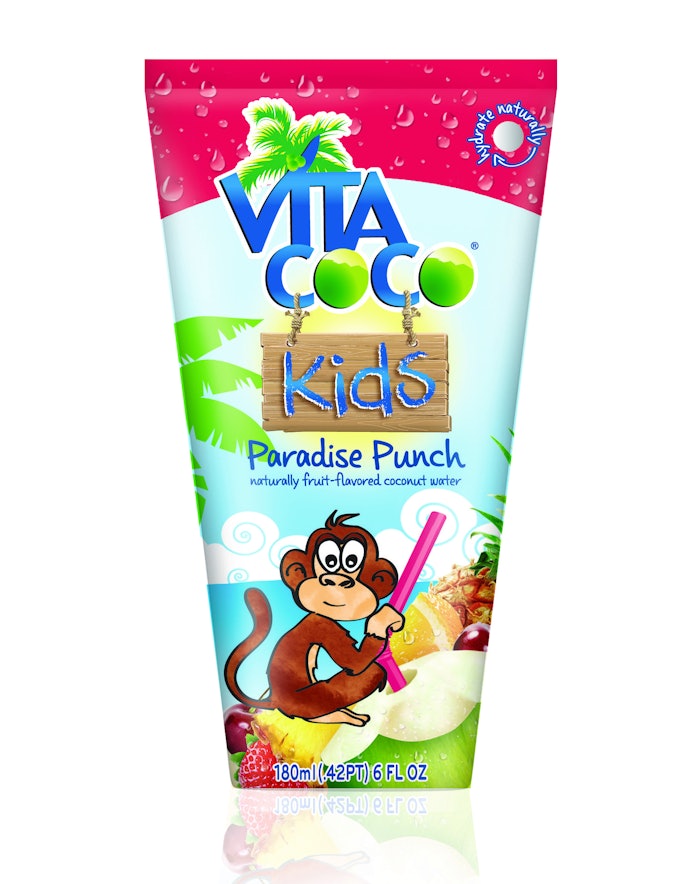 A recently launched line extension for Vita Coco Coconut Water brings fun and functionality to the children's beverage aisle with package graphics that marry the tropical heritage of the core brand with kid-friendly characters and humor, while appealing to health-conscious moms. 
Vita Coco Kids was introduced in July 2012 as an all-natural, functional alternative to sugary, artificially flavored kids' drinks. The three-flavor line is packaged in a 6-oz Tetra Pak Tetra Wedge Aseptic carton, a triangular-shaped format with an attached, easy-to-insert straw that is new to the North American market.
To strike the right balance between Vita Coco's established brand identity and the new kid-focused line extension, Vita Coco worked with brand design and development firm Moxie TM. "Translating the distinctive Vita Coco brand voice and bringing it to life in the kid's category required finding just the right tone," says Tammy Vaserstein, Creative, Principal, Moxie TM. "We wanted to retain the whimsical and quirky personality of the core brand, but in a kid-appropriate way that balances the better-for-you message for parents, while being fun and engaging for kids."
A new logo lockup features the existing Vita Coco logo with a beachfront restaurant-style sign hanging off the bottom, with the word "Kids" etched in a custom font resembling a child's handwriting. A tropical beach scene includes illustrations of palm trees, blue skies, and coconuts, along with real fruit photography to communicate taste. Each variety is also illustrated with its own flavor-specific animal character: a toucan for Very Cherry Beach, a parrot for Apple Island, and a monkey for Paradise Punch. "To remain true to the brand, we only included animals that belonged on a beach or in a rainforest and then infused them with personality and style to serve as the face of the flavors," says Vaserstein.
Additional characters are featured on six-pack cartons, which are decorated with extended beach scenes and include health benefit information, including juice comparison charts, on side and back panels. A color-coded umbrella arc at the top of each pack provides a strong billboard effect on shelf as well as flavor differentiation. Moxie TM has also created an 18-pack club-store package that combines all three flavors of the multipacks shrink-wrapped together.
Companies in this article