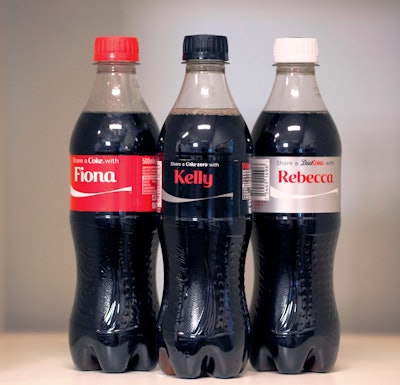 Coca-Cola has invited customers in 32 European countries to Share A Coca-Cola, by addressing them personally on-pack. In the largest job on record for HP Indigo WS6000 series digital presses from HP, starting in January 2013, eight label converters across Europe, running 12 digital presses for three months, 24 hours a day, produced nearly 800 million personalized bottle labels for the campaign, using more than 10,000 names, in more than 10 languages and five alphabets.
Supported by a fully integrated marketing program to connect consumers online, the Share a Coca-Cola campaign launched in May and substitutes the iconic brand logo on bottles of Coca-Cola, Coca-Cola light, and Coca-Cola Zero with 150 of the most popular first names, nicknames, and terms of affection from each country. While the promotion was originally scheduled to run four to five months, some countries sought extensions of the highly popular promotion.
"Packaging plays a critical role in the Share a Coca-Cola campaign, because it connects the physical bottle with online communication channels, including social media and user-generated content sites," says Marit Kroon, Marketing Manager, Europe, Coca-Cola. "The ability to personalize such a high volume of labels with the HP Indigo digital presses, while achieving the quality and consistency that Coca-Cola requires, opens up new possibilities for creative campaigns moving forward."
To complete the labels in time to meet the campaign launch date, the 38-micron biaxially oriented polypropylene film rollstock was first printed in volume on conventional presses with static information, including regulatory data. Then, under the direction of Dalfsen, Netherlands-based converter ESHUIS, eight converters across Europe using HP Indigo WS6000 presses printed the variable data on the labels.
To ensure complete alignment and consistency during production, all of the converters' presses were set to the same configuration and settings. A special mixed ink—the Coke Red—was also developed by HP Indigo for the WS6000 platform to ensure the Coca-Cola color was maintained across all machines. During production, label rollstock was printed with different names on each roll, appearing in a frequency per roll determined by Coke, but in a random sequence—a process made possible by an adaptation of the HP Indigo software solution developed by Esko.
Says ESHUIS Managing Director Peter Overbeek, "During the months of continuous printing, the HP Indigo WS6000 series digital presses have proven to be exceptionally reliable, achieving record productivity and press uptime of 86 percent. With such a strong European network of PSPs [print service providers] using HP Indigo digital presses, the opportunities for brand owners like Coca-Cola are endless."
Companies in this article