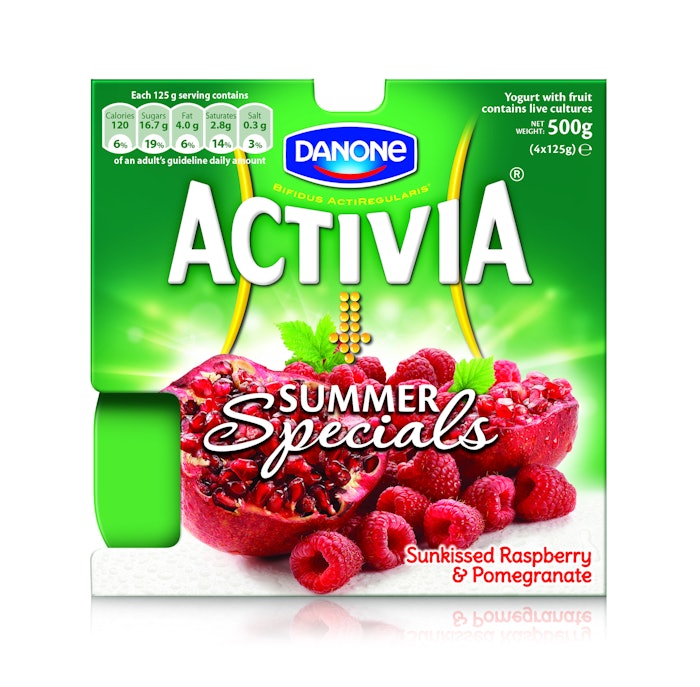 Adding a seasonal twist to its line of Activia-brand yogurts, Danone UK has introduced three varieties of Summer Specials in "a sun-drenched, flavor-bursting pack design," relates Alan Gilbody, Creative Director for Slice Design Ltd. Slice was asked by Danone to design graphics for the limited-edition, fruit flavors that would have great shelf stand-out and clear differentiation from the core image.
Starting with established Activia graphic design elements, Slice retained the green brand color and the logo, as well as the overall layout of the package design, Gilbody explains. Differentiation came in the form of bold, fresh fruit photography, ripe with color, depicting moisture-drenched raspberries and pomegranates, pineapples and coconut, and lemon and lime slices, for Sunkissed Raspberry & Pomegranate, Exotic Pineapple & Coconut, and Refreshing Lemon & Lime varieties, respectively.
Emanating from the fruit images are rays of sunshine, in white and in hues of summery yellow. "While keeping the distinctive Activia brand color, we played with the theme of light to create a warm, summery feel and to force differentiation from the core range," Gilbody adds.
Four 125-g cups—or pots, as they are referred to in the U.K.—of yogurt are held in the decorated paperboard sleeve, printed in a mixture of CMYK and spot colors. The front-facing pair of cups shows the Summer Specials logo on the left cup, and fruit imagery on the right.
According to Gilbody, the greatest challenge of the project was "creating new news in the yogurt aisle by building appetite appeal through enticing food photography and texturizing the instantly recognizable brand color with a summery light effect."
The four-pot packs were introduced in the U.K. in June.
Companies in this article