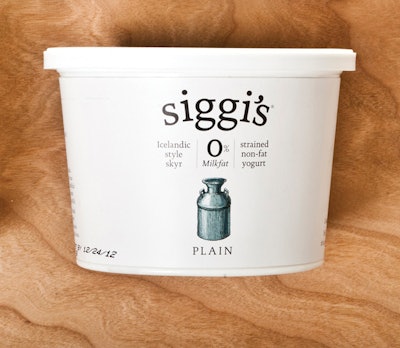 Here are some options to consider when planning your next label.
1. Injection in-mold labels. In-mold labeling (IML) of blow-molded containers is well established. Relatively new to the U.S. is IML of injection-molded cups, tubs, and square containers, which now can carry 100% graphics coverage compared with spot labeling, which can limit graphics. IML can provide high-quality graphics coverage on all four sides of a square container as well as on the bottom. For sustainability concerns, confirm the compatibility of the IML stock with container recycling streams.
2. The thinner, the better. Whether it's called sustainability or just plain cost savings, consumer packaged goods companies are pushing converters to reduce the thickness of the liner and the label without affecting performance. Also in the sustainability vein, though not in the thinner vein, some companies are dropping the outer carton and switching to expanded-content labels.
3. Shrink-film options. In recent years, the onset of PETG LV shrink films provides another option besides oriented polystyrene with regard to the important characteristic of very little shrink in the machine direction. The benefit: no scalloping or puckering around the bottom and top of the container. A new option is white-pigmented shrink-label films, which provide barrier to light, and which can yield more film per square inch.
4. Curved container flexibility. Marketers want to add shape and contour to their containers and still be able to label them. Shrink-sleeve labels can be an excellent option for curved bottles, but new technologies such as Avery Dennison's Fasson Curvy™ film labels now make pressure-sensitive labels a viable and attractive option for curved bottles.
5. The "no-label" look. Whether just a fad or not, pressure-sensitive labeling equipment manufacturers have responded with improved control of the immediate atmosphere around the label to mitigate static and dust, two enemies of clear-film label application. Better control of packages is also required to assure accurate and consistent application, which can be verified with vision systems.
6. Linerless labeling. Since linerless labels debuted, the consensus is they're not ready for prime time and won't be for some time, especially when it comes to primary container labeling. However, over the next few years, the cost will continue to drop and performance will improve to the point where linerless labels are expected to be a viable option for print-and-apply shipper labeling.
7. Flash for shelf impact. One of the most cost-effective ways to increase shelf impact is to print on a metallized substrate, whether paper or film. Foil stamping can be expensive, and a metallized substrate effect is often easier to put into production. One tip is to lay down a full-flood layer of white under all the graphics for consistent brand presentation.
8. Price concerns. If oil prices continue to rise, expect to see increases in the cost of film labels as well as pressure-sensitive labels that use petroleum-based adhesives. Consolidation in the raw materials industries that labels are made from—suppliers of substrates, adhesives, and inks—will result in capacity being taken out of the market, which could also push prices higher.
9. Minimalism and its reaction. The pendulum swing toward minimalistic design may have begun to swing back. While the austere, hyper-clean brand expressions of the last decade followed a purity-driven aesthetic, that purity came to lack character and authenticity. Brand challengers are now countering that trend with "dirty design," which often includes hand drawings, letterpress printing, silkscreen decorations, and chaotic graphics. And it's not only the challenger brands that are disruptive. Established brands are also returning to their origins by embracing the equity and value of their less-pristine pasts.
10. Private label and "me-too." Private-label brands today are often fully realized "brands" using the same tools and strategies as nationally dominant brands. One way to combat the advance of the competition is to "own" at least one brand element exclusively or expand your brand repertoire with structure. Also, be less risk averse and tell new stories. Be nimble and quick, and challenge conventions.
11. Less tech means more natural. Flashy labels can undermine the all-natural, organic, or eco-friendly message of the brand. Established brands are trying to move away from "artificial," "synthetic," and "digital-looking" labels. What may have connected with consumers in previous generations is now a liability. For instance, matte finishes are being used to appear more all-natural or eco-conscious. Like some established brands making this move, you might want to explain: "We're not as bad as we once looked."

Liked this article? Download the entire playbook here.