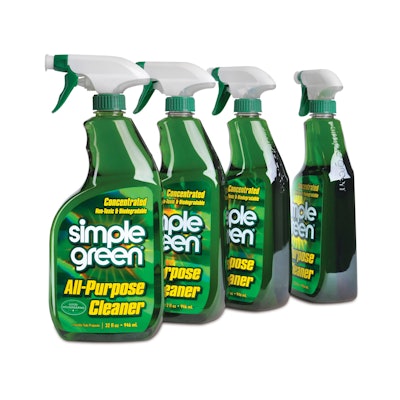 Sunshine Makers, Inc., the manufacturers of the Simple Green line of household and industrial cleaning products, has introduced the result of over a year of research and development toward a more sustainable package and delivery system for their family of concentrated cleaning products. The new delivery system, including a proprietary bottle and new trigger technology, from MeadWestvaco (MWV), is made entirely of plastic and has reduced resin content.

The new proprietary spray bottle, in 16-, 22-, 24-, and 32-oz volumes, provides expanded label space for more product information, as well as an ergonomic, easier-to-use shape that helps relieve hand fatigue. The new bottle also has the Simple Green logo embossed on the outer edge, to encourage bottle reuse and strengthen the brand. The new bottle also includes 25% post-consumer recycled (PCR) plastic.

The new delivery system includes a door foamer nozzle option as well as an all-plastic trigger, which results in a lighter weight and reduced resin content. Sunshine Makers estimates that the new trigger will eliminate more than 19 tons of resin and 10 tons of steel per year.

Notes the company, using materials made in the U.S. helps ensure a smaller global footprint, fitting perfectly into Simple Green's local supply chain strategy with shorter shipping distances versus overseas manufacturing. This business model also supports local economies and continues Simple Green's tradition of providing U.S.-made goods, the company says.

The new package and delivery system are also a step forward for the consumer. The new trigger is said to provide a 28% increase in output, and a consumer-preferred spray pattern. The door foamer nozzle option allows the consumer to dispense product as either a foam or a traditional liquid spray, depending upon the job at hand. The new bottle and trigger will begin appearing on shelves across the U.S. and Canada throughout 2013.

The new package has been honored with a Gold Award by the North American Retail Hardware Association (NRHA), in its 2013 Packaging and Merchandising Awards Program.
Companies in this article