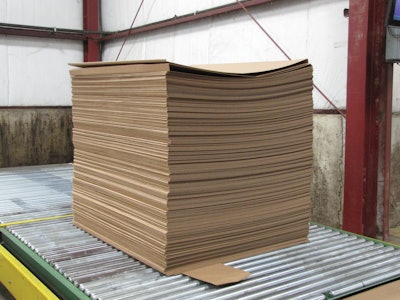 Lloyd/Flanders, Menominee, MI, specializes in the production of all-weather wicker furniture that is latex-coated and painted with polyester resin-based paints. A video demonstrating the furniture production process can be viewed at www.lloydflanders.com.

To package furniture for shipment, Lloyd/Flanders first applies 1.75-mil film bag covers to prevent the furniture from rubbing against the corrugated case walls during shipment. By making each shipping case the precisely correct size, the furniture company is able to eliminate the need for extra shipper filling and cushioning materials.

Lloyd/Flanders had been purchasing bundles of off-the-shelf corrugated case flats in some 300+ sizes. Case flat inventory maintenance, sorting, and case set up were very time-consuming. And when a particular box size was out of stock, the furniture order would sit on the plant floor, waiting for delivery of the new case flat shipment to the facility. Sometimes, the wait could be up to two weeks.

Realizing the inefficiencies of this situation, Lloyd/Flanders pursued a cutting-edge, lean manufacturing alternative and found Box On Demand. The automated, pre-programmed Box On Demand system enables the furniture maker to produce the exactly right-sized shipping case to mate to the furniture piece exactly when needed.

Installation and start-up

System installation and worker training were relatively quick and simple. Mark Erickson, Engineering Manager at the Menominee, MI facility, reports, "Considerable planning was done prior to the arrival of the casing machine. When the machine showed up on the loading dock, a Box On Demand representative was here to help. Set up, hook up, and training took approximately one week. Technical representatives from Box On Demand were assisted by our maintenance crews in the set up of this piece of equipment. Training of our workers went smoothly. Before the machine was installed, all of our current case sizes were compiled into a database. After the machine was installed, the database was entered into the system, and we were up and running."

The raw material used in the system is preprinted corrugated fanfold bales that come on a pallet with 1200 or more linear feet per stack, dependent on corrugated grade in the load. Lloyd/Flanders uses five different widths/grades of stock, including both single-wall and double-wall. Box On Demand manufactures the fanfold corrugated materials.

After the shipping cases are erected, loaded, and sealed, plant personnel manually apply pressure-sensitive labels that have been thermally bar coded using Model CL608e ribbon printing equipment manufactured by Sato.

Erickson notes, "Our machine's touch-screen control interface enables our operators to accomplish case dimension changes easily and rapidly. New cases can be developed, tested, and installed in the database within minutes. This has shortened new product lead times."

Bottom-line benefits

The result is the elimination of the requirement to stock 300+ box SKU's, amounting to approximately $100,000 in inventory. In fact, the company is now running about 800 SKUs (many of them customized) without the inventory pressures. Shipping case customization helps prevent furniture damage during shipment. In addition, Lloyd/Flanders has been able to enhance worker usage efficiencies, repositioning staff so that the former 6 workers needed to accomplish case set-up is only two needed now. It now takes an average of about 20 seconds to set up a case, and the corrugated fanfold bales can be changed within minutes.

"The cost savings have been substantial," says Erickson. "Machine payback has been rapid, and case material storage space has been reduced by a factor of ten. With the savings this machine has provided, we have been able to upgrade our case material stock to improve the durability of our shippers."

A video demonstrating the Box On Demand system in action at Lloyd/Flanders can be viewed at www.bit.ly/pwe00475. 
Companies in this article