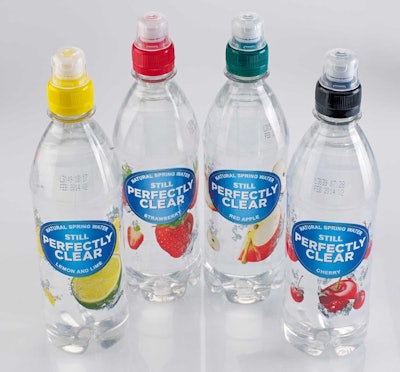 Chadwicks supplies the PVC label. Printed flexographically in six colors, it replaces a glue-applied film label. This is the first time that shrink sleeves have been used on the Perfectly Clear brand, which includes seven variants in 500-mL PET bottles. The labels are applied by a machine from Accraply.
"We wanted to give the brand a refresh but had a limited amount of time," says Mark Bell, operations director at Contract Bottling. "We have a long-standing relationship with Chadwicks and were confident that their shrink sleeve solution would provide us with what we needed. The shrink sleeves offered shorter lead times, have a higher quality finish than wraparound labels, and let us utilize more of the bottle for branding. Chadwicks' technical expertise and quick response means we've been able to produce the Perfectly Clear drinks range with a distinctive, added-value finish."
Included in the line are both still and sparkling beverages. The sports cap closures on the still products are provided by Portola Packaging while the sparkling products get a flat cap supplied by Constar .