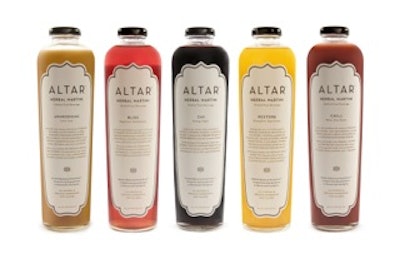 Boasting a "collage of global ingredients," the new ALTAR line of herbal martinis has been introduced by a Portland-based company of the same name that claims to have developed every detail of the brand—including its package design—using "Considered Curation."
"ALTAR embraces the concept of Considered Curation by hand-selecting, nurturing, and looking after each ingredient, cultivating each flavor, engaging each tea, and thoughtfully applying each herb in an effort to create the world's first Herbal Martini—an experience you will remember for a lifetime," says Altar Co. founder Jagatjoti Khalsa.
The non-alcoholic beverage in five flavors, or moods, including Aphrodisiac, Bliss, Chi, Chill, and Restore, employs ingredients such as single-estate teas, heirloom fruits and vegetables, spices, and botanicals from five continents. The 100%-natural drink can be enjoyed alone or combined with fine spirits, with each variety having a suggested pairing.
Crafting the brand presence as carefully as it formulated the beverage ingredients, Altar worked with Gooder Companies to develop the overall aesthetic, typography, and information hierarchy for the packaging, an apothecary-style, 750-mL glass bottle. "Gooder developed a considered and unique glass bottle that was meant to represent old meets new—a beautiful, tall, and strong vessel just waiting to be discovered," relates Sarah Goldberger, chief marketing officer for Altar. "The branding platform's narrative seeks to marry old-time apothecary with California contemporary, meeting the demands of sophisticated consumers."
Leading the art direction for the package was OKO Design Studio, which worked with Altar to create the shape of the scalloped-edge label, meant to capture a "retro speakeasy/apothecary aesthetic," explains Goldberger. Label copy includes language and product descriptions "written to read like poetry," she adds, with each flavor and ingredient prominently profiled, often revealing their exotic, native origins. A quote on the back label along with an illustration of Khalsa, explains the concept of considered curation.
Altar launched its herbal martini brand online in January, with each bottle priced at $19.95, or $74.95 for a four-pack, and is rolling out a national plan with gourmet grocers. The brand is also making its way on the menu at high-end bars, restaurants, lounges, hotels, and spas.
Companies in this article