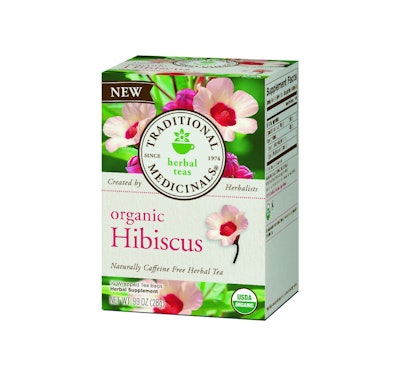 Traditional Medicinals, with more than 50 herbal-formula wellness teas, has refreshed its packaging graphics to appeal to a broader audience and capitalize on the rising consumer interest in natural and herbal products. The Sebastopol, CA, company, launched in 1974, is a pioneer in the wellness tea category and is committed to educating people on the power of plants. New graphics for its 16-ct sachet cartons were selected to reflect this passion for plants and make the herbal tea category more approachable for consumers new to the category.
"Our research with consumers confirmed that our previous packaging looked too clinical in nature," says Matt Crum, Traditional Medicinals vice president of marketing. "This look, coupled with occasionally too-technical copy, made some consumers hesitant to try our products."
Guiding the refresh—the first in more than a decade for the brand—was an extensive research effort that included interviews, surveys, shop-alongs, and focus groups with more than 3,000 wellness tea consumers. Results showed the importance of product accessibility through warmer, friendlier, and easier-to-understand packaging.
Previous packaging comprised a light background color, with limited ingredient illustrations and dark text, which "made it difficult for consumers to find the tea they were seeking, especially in a retail location with more than one shelf of product distribution," says Crum.
The new carton graphics, designed by PhilippeBecker, include icons and color bands that logically assemble the product line into nine segments—detox, digestive, green, herbal, laxative, relaxation, seasonal, tonic, and women's—meant to "awaken curiosity and make it easier for consumers to identify products based on their needs," says the company. Bold, beautiful, photorealistic images of the plants used in the tea formulations dominate the background of each box. Together, these elements were selected to demonstrate care, evoke trust, and cue flavor.
Retained from the previous packaging were the product names and claims. And, while five new tea varieties were added to the lineup, formulations remain the same. "From our research, we learned that when it comes to wellness teas, consumers value a product that 'does what it claims to do,' and that consumers trust Traditional Medicinals' teas to do this," says Crum. "Therefore, while our new packaging is a significant change from the prior, we kept our tea formulations the same."
Packaging materials also stayed the same: Each 0.99-oz tea box is made from 100% recycled paperboard (at least 55% of which is verified post-consumer waste), shipped in a recyclable shipping case.
The full line of Traditional Medicinals' teas, with the exception of its Just for Kids varieties, began launching in the revitalized packages at retail in late 2012 at an average cost of $5.49 apiece. The company expects a full transition to the new packaging by the first quarter of 2013.
Says Crum, "We've received nearly universal positive response to our packaging from retailers, who see the segmentation as a big idea, and can see how the visuals and copy are working together to make wellness teas more accessible, and therefore an avenue to category growth." Traditional Medicinals notes that in 2011, the herbal supplement market grew 4.5% to an estimated $5.3 billion. The company estimates that this growth will carry over to wellness tea, and expects the category to double in size to $400 million in the next five years.
Companies in this article