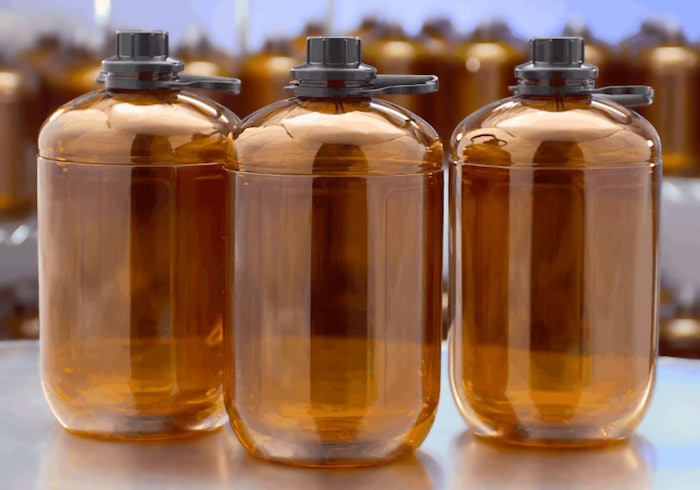 A next-generation liquid dispensing and delivery system for sensitive chemicals and other products, that comprises a collapsible, rigid liner inside a PET bottle, was profiled at The Packaging Conference, Feb. 4-6, in Atlanta, by its developers, ATMI, Inc. and Packaging Technologies, Inc., represented by ATMI director of marketing Al Botet and PTI vice president Tracy Momany.
ATMI provides specialty semiconductor materials, and materials handling and delivery solutions designed to increase process efficiencies to the worldwide semiconductor, flat panel, and life sciences industries. ATMI worked with PTI to develop the new system, known as BrightPack®, as a value-added alternative to large glass bottles and other traditional systems that store and dispense photolithography chemicals used in the manufacturing of semiconductors, LEDs, and flat panel displays.
The BrightPak system's primary components are created from two separate preforms. The polyethylene terephthalate (PET) preform is used to blow-mold a bottle with a capacity of 4.6 L. The second preform is made from polyethylene naphthalate (PEN) and is used to create the rigid, three-dimensional collapsible interior "liner" that holds the chemicals. In introducing the innovation, Botet said, "The BrightPak transcends industries."
As Botet explained, the primary objectives for the interior rigid liner were that it had to collapse at low pressure without tearing, be compatible with various chemicals, and dispense 99% of the product. "Photoresist chemicals can cost thousands of dollars per liter, so we needed to be able to squeeze every drop out," Botet explained. The bottle around the liner had to withstand six times the dispensing pressure (greater than 90 psi) to provide an additional safety cushion.
Additionally, the system needed to withstand shipping and storage conditions down to -20°F and also block out 99.9% of light from 190-425 nanometers, which is in the UV-to-visible range. As Momany related, the inner PEN and outer PET (with amber colorant) components deliver just that.
One of the biggest issues with the package development was the "ship in a bottle" challenge of how to place the rigid inner PEN liner into the outer PET bottle, Momany related, adding that PTI developed a proprietary solution.
The two-piece assembly fits into a third component—a blow-molded, full-body PET "base cup." Because the PET bottle has structural panels that make labeling challenging, the textured, full-body cup facilitates branding options and also provides a stable base for the bottle's slightly rounded bottom. Its amber color provides another layer of UV and shipping protection.

The BrightPak package dispenses liquids using pressure (direct or indirect) or pump systems. It is specifically designed to eliminate the sources of bubble formation and particle defects caused by pump and vacuum delivery containers. Drive gas can be applied between the rigid liner and the bottle. Once in this space, the pressure from the gas squeezes the rigid liner, causing it to collapse and force the chemical out of the bottle. The system dispenses the chemical through a sealed pathway from the liner to the dispense tool. It also protects the chemical contents from external contamination. The rigid liner eventually collapses fully and ensures optimal dispense results.

The BrightPak technology, which ATMI also refers to as a "double containment" system, offers users multiple benefits, including approximately 21% additional volume compared to the typical 1-gal glass bottle used in lithography applications today, Botet related. (Glass typically has thicker sidewalls and often a longer neck, which negatively impact fill volume.) The higher fill volume is possible without impacting labeling surface, the handle location, or the physical dimension of storage and usage locations.

According to ATMI, additional advantages include exceptional chemical protection from environmental factors, as well as accidents and operator errors. Unlike glass bottles, the BrightPak system is made from shatter-resistant plastic resins, minimizing the chance of costly chemical spills and production shutdowns. As both Botet and Momany exhibited through videos shown to the audience, filled BrightPak containers have passed drop tests ranging between 4 and 8 ft. The system also reduces the amount of chemical residuals requiring disposal.

ATMI believes its BrightPak liquid delivery system is ideally suited for applications beyond those originally intended, and it is interested in pursuing licensing opportunities. "It was developed for our customers, says Botet, "but there is no reason we can't license it for other markets outside our core competency."
Potential markets include adhesives, pharmaceutical, food, beverage, and others. TPC moderators questioned the feasibility of the system for some a beer keg application. According to Botet and Momany, the resin used for each layer can be altered and the container size can be scaled up or down, depending on application requirements. Said Botet, "The next evolution [of the BrightPak] is up to the imagination of the audience."
Companies in this article