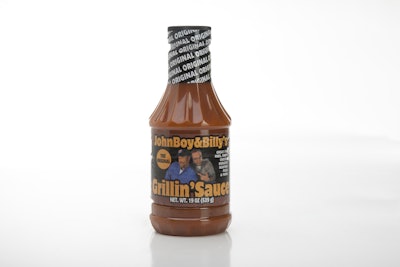 Old South Foods of Ann Arbor, MI, a leading bottler and contract packager of restaurant and institutional foods, has converted its 16-oz barbecue sauce decanter from glass to hot-fill PET bottles from Amcor Rigid Plastics. The packaging conversion for Big Show Foods' John Boy and Billy's Grillin' Sauce brands represents Old South Foods' first use of PET containers. Moreover, it's the first commercial adoption of Amcor's 16-oz hot-fill stock decanter—the company's latest hot-fill stock package for foods such as barbecue sauce, marinades, and salad dressings.
According to Greg Peckham, plant manager for Old South Foods, the conversion to PET for the 16-oz container has provided significant benefits, including light weight and reduced breakage along with major filling advantages. "PET bottles are much easier to fill than glass, thus offering us greater accuracy in meeting proper volume measurements," says Peckham. "As a result, we're able to significantly increase our productivity and output." The 16-oz decanter has a 38-mm finish, which is compatible with a range of induction seal label systems.
Brand owner Big Show Foods sought out PET options from C.L. Smith, a leading St. Louis-based manufacturer and distributor of packaging. The 38.4-g hot-fill decanters, which can be filled at temperatures to 185 deg F, have resulted in a major reduction in freight costs and significant reduction in breakage/damaged goods during manufacturing and in charge-backs from retailers. Lightweight PET also delivers glass-like appearance and shelf life appeal to maintain John Boy and Billy's Grillin' Sauce brand image. These sauces are available in supermarkets and big box stores throughout the Southeast.
Companies in this article