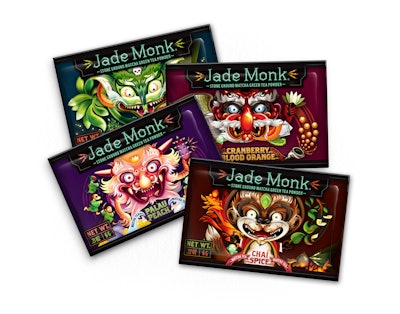 East meets West and contemporary design blends with folklore in vibrant new packaging for natural energy drink Jade Monk, a new powdered beverage that uses an ancient ceremonial Japanese green tea, Matcha, along with natural sweeteners and flavors, to provide a "non-jittery, calm energy." Company co-founders Cort Bucher and Derek Pippin launched the four-flavor line in August as a natural, low-calorie alternative to sugar-laden energy drinks. In directing design agency Moxie Sozo on branding for the instant beverage, Bucher says, "We gave them carte blanche, with one caveat—that the packaging is edgy and still pays homage to the traditional nature of the tea."
Moxie Sozo's interpretation: the use of fiery characters from Japanese folklore in electric colors that convey the vitality and energy of the all-natural product. "We knew that a face with bold, engaging eyes and bright hues would attract more attention than, say, a bonsai tree in muted tones," says senior art director for Moxie Sozo, Charles Bloom. "That mentality and Matcha's Japanese origins led to the exploration of Japanese theatrical masks, which by their nature, are expressive and engrossing."
For each product variety—Chai Spice, Palau Peach, Cranberry Blood Orange, and Lime Blossom—characters were selected by color or by folk story to correspond. For example, Bloom explains, the Tengu, or "heavenly dog," is used for Cranberry Blood Orange because the character is often depicted in shades of red, much like the flavor itself. "Fortunately, we've got a wealth of tales from which to draw for future flavor extensions," Bloom adds.
The Jade Monk logo was directly influenced by the name: It's a monk figure carved from jade. "But while the figure is carved from stone, he is anything but static," says Bloom. "Though he is not the star character on each package, he plays a secondary role in each narrative, and that role can range from prankster to hero."
Package graphics were originally designed to adorn tin canisters, but when Boucher and Pippen could not find a supplier that could provide them with BPA-free packaging, they switched to single-serve sachets, packed in a paperboard carton. "We take our product purity very seriously," says Bucher, "and a BPA coating was unacceptable."
Jade Monk worked with Overnight Labels to develop a sachet construction that would provide a barrier against oxygen and moisture, a premium appearance, and a limited use of plastic. The resulting envelope is a heat-sealable paper/poly/foil/poly construction, flexo-printed in four-color process plus one spot color and a varnish for each flavor. Says Carrie Houghton, Overnight Labels' business development manager, "The challenge of this print job was the color itself. We had to color-match across a wide variation of saturations." The sachet material is provided to Jade Monk on rolls for automatic forming/filling/sealing.
Cartons, which hold 12 single-serve 0.22-oz sachets each, are converted by Johnson Printing & Packaging. For the carton design, Moxie Sozo lightened up the graphics by incorporating areas of white space. "Though it works well on the tins and individual packets, dark color in large amounts can feel a bit heavy," says Bloom. "Therefore, the cartons introduce lighter areas that really make the other colors sing and feel tasty and refreshing."
Jade Monk was introduced last summer in four flavors plus a variety pack for sale on its Web site and on Amazon.com for a cost of $14.49 per carton—a good value when compared with other ready-to-drink tea beverages on the market, according to Bucher. "That's $1.20 per serving as opposed to $2-plus per bottled tea, not to mention that our product is loaded with healthy antioxidants and the benefits of green tea. A single serving has the antioxidant/nutrient equivalent of more than seven cups of steeped green tea, whereas bottled tea is essentially sugar water," he says.
Boucher hints that the product—appealing to tea drinkers and non-tea drinkers alike—will be offered in "some very large natural food retail chains" in Q1 2013.
Companies in this article