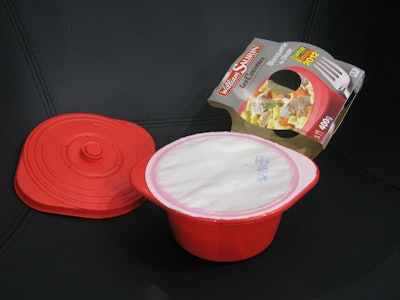 When leading French food marketer William Saurin delivered a design brief to RPC asking for a package that looked like the famous enameled cast iron Le Crouset pot, that is exactly the package it got. Launched in France in the fall of 2012, the pot is thermoformed by RPC from a seven-layer coextrusion of PP/regrind/tie/EVOH/tie/regrind/PP. It's filled in William Saurin's Rodez, France, facility on a Waldner system that also applies the clear flexible film lidstock. Supplied by Huhtamaki, the lidding material is a lamination including PP peelable seal, a polyamide layer, and a polyester coated with aluminum oxide for barrier. Filled and sealed pots are retorted. Later, an injection molded PP lid is applied by hand (for now); molded into this PP lid are the words "William Saurin" in that company's trademark elegant script. The finishing touch on the package is a beautifully decorated paperboard sleeve. The finished package, holding 400 g of food, sells for 3 to 3.50 Euros. Five varieties of traditional French foods come in a red pot while a yellow pot holds a number of Mediterranean style foods.
The folks at APPE showed an interesting jar of jam now being sold at Marks & Spencer that is said to be the first plastic container in Europe able to withstand thermal processing temperatures of 95 degrees C. Weighing just 34 g empty, it's considerably lighter than its 360-g glass counterpart. The innovative PET container is injection stretch blow molded on a Nisei two-stage reheat and blow system. APPE says only by using its specific proprietary PET grade and a special process on the Nissei machine can a container with these characteristics be made.
At RKW's booth, an application of QR code printing on display was unusual in that the code was printed on a shrink wrap film used to unitize three cans of food from William Saurin, the well known and packaging-savvy French food marketer. RKW is both a maker of high-definition printing systems and a supplier of film. In this application, RKW sends a three-layer PE coextrusion through one of its flexo printers to imprint the QR code. The challenge in such a print job lies in the fact that the QR code must be pre-distorted in just the right way so that when the film is shrunk, you don't wind up with a blurred QR code that can't be scanned by the consumer's mobile device. Consumers are being drawn to the package when they encounter it on store shelves because by scanning the QR code they are taken to a site where they can become eligible to win TVs and other cool stuff.
Rommelag's Bottelpack blow/fill system features a new mold-change function that provides a pneumatic assist. This greatly simplifies mold change and enhances worker safety. Rommelag customer Excelvision, located in Annonay, France, takes shipment of the machine in December. According to Directeur General Thierry Depauw, it will be used to fill single-dose eyedrop products for both Rx and OTC.