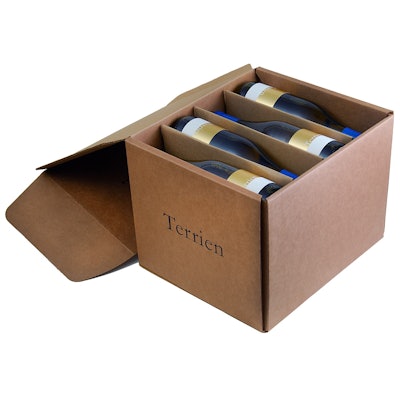 Napa, CA-based Terrien Wines may be a small, niche player in the wine business, but when it needed an elegant, sustainable solution for shipping its Chardonnay, it received the red-carpet treatment from package supplier Unisource Worldwide, Inc. and its new Engineered Solutions division (UES). UES developed a sturdy, custom shipper for the winery that addressed owner Michael Terrien's desire for an environmentally friendly solution with a simple, clean aesthetic that could meet the rigors of distribution.
"I was surprised that the design team at Unisource was willing to address this challenge, because I don't represent much revenue for them," says Terrien. "But it has been a pleasure to have that connection with them and the engagement of their expertise."
Terrien Wine launched in 2011, offering a 2007 vintage Chardonnay. The vintner sells primarily Direct-to-Consumer (DTC), selling its wines to restaurants and collectors, with a small amount of product sold through distributors. With larger wine producers, product is typically packaged in compact, corrugated shippers that are palletized 56 cases to a pallet and sent to distributors. At the distribution center, the wine is removed from the shipper and repacked in a bulkier box that uses polystyrene or molded pulp to cushion the bottles for shipment DTC. The original packaging is then recycled.
Terrien's vision for his packaging was a compact, 12-bottle laydown case that would eliminate the need for repacking and for the use of PS, and could meet UPS and FedEx shipping requirements. "I wanted to be able to have no waste in the system," says Terrien. "I also did not want to use polystyrene, for environmental reasons. And, when you use polystyrene, it increases bulk, and if you have to figure in bulk, you can't use the package on pallets going to distributors."
According to Rodney Levitt, director, Wine Packaging Sales, Unisource, who led the Terrien project, the challenge was to create the larger, 12-count case size using only corrugated material. "We had successfully done twos, threes, and sixes for years, but we never attacked a 12-pack," he says. With the help of engineers at the UES Cerritos, CA, facility, Unisource was able to develop what Terrien refers to as an "origami-like" folding structure made from 100% corrugated material that uses no adhesive and is suitable for shipping both DTC as well as to distributors.
Enhanced engineering capabilities
The Cerritos UES facility is one of two new centers—the other is in New Berlin, WI—staffed by Unisource structural engineers and graphic designers, who are capable of developing primary, secondary, and/or tertiary packaging, as well as point-of-purchase displays, for virtually any product category. While Unisource's forte has typically been in corrugated, stretch wrap, and tape, the centers work with a range of packaging materials.
Before the launch of UES, Unisource operated two design centers that catered to customers looking for corrugated and folding cartons. "Within the last year, as we rebranded into our engineering centers, we now call ourselves 'material-neutral,'" says UES director Steve Alagna. "Now not only can we do corrugated and folding carton, but we also can do molded foam, fabricated foam, thermoforming, and flexible packaging, among other materials. We have even done wood and cloth."
The two mirror-image centers are equipped with graphic design capabilities, including the ability to provide printed or plain mockups and photography. Prototyping centers at each facility use a Formtech 508FS thermoformer, a Dimension 1200es SST 3D printer, and a Kongsberg XL 24 cutting machine. The centers are also outfitted with complete ISTA-certified labs that can perform tests including performance, vibration, compression, shock, and drop tests, among others, on both products and packaging.
"I do not know of any other supplier that will do product testing," notes Alagna. "Customers are open to the idea. If you can show them the advantages, oftentimes they are willing to make changes to their products to make them more rugged."
In the case of Terrien Wine, a 12-count case made solely from corrugated was possible in part because of Terrien's use of glass wine bottles chosen to provide the protection needed, without extra weight. "We were concerned about the extra weight that would be involved with a 12-count case," says Levitt. "Doubling the weight from a six-pack to a 12-pack means moving from a 20- to 25-pound package to a 45- to 55-pound package, depending on the weight of the bottles. But Michael has really taken care not to buy the heaviest, biggest glass bottles for his wine—consistent with his objective to create a much greener solution."
Confirms Terrien, "We have a tendency in the wine industry to justify our prices by making the packaging bigger. That is not compatible with our effort at Terrien to become greener."
UES structural engineers Tuan Tran and Tuyen Pham designed the Terrien Wine box as a RELF DF (Roll End Lock Front with Dust Flaps) Econo-style box. The case is constructed of 275# B-Flute/C-Flute Kraft double-wall corrugated that, due to its unique design, provides four layers of double-wall material on three sides of the box.
Explains Levitt, "It has a number of pieces that normally are die-cut away from the blank but actually end up folding and layering in-between the boxes. So when you have a fold from the front, for example, the box just folds over and locks into place. Usually it is just the outside and the inside, but the way we designed the box, we left material in place so it's folded as an extra layer of protection, so that that the lid and the front of the box fold over those two other pieces."
The box holds three layers of four wine bottles each, protected by four bottle insert dividers and four bottle layer pads, made of 200# B/C double-wall Kraft. Tabs on the layer pads fold down against the back of the case, providing an extra layer of protection for the one wall of the box that does not already have four layers of double-wall corrugated.
Prototypes of the design were created on the Kongsberg cutter and used by Terrien for its own drop tests and shipping trials.
Elegant aesthetic preserved
Originally when the Terrien Wine box was envisioned, Unisource anticipated that an outer RSC would also be required for protection during shipment. "But when we saw how stout this box was, we felt it was worth trying without an outer shipper," explains Levitt.
To seal the case, as well as provide the required TTB (Alcohol and Tobacco Tax and Trade Bureau) information (bottling date, vintage, alcohol percentage, and bonded winery number), Terrien came up with the idea of using a Kraft paper gum tape, preprinted by Winston Co. with product details. The 3-in. printed-tape solution preserves the elegant appearance of the case, which otherwise is decorated only with the Terrien logo, and eliminates the need for preprinted boxes.
"That means the print dies [for the cases] don't have to change for each vintage," says Terrien. "We can use the same box next year as we did this year, even though the wine is a different vintage. It is all about efficiency. The only thing that will be wasted is the leftover roll of gum tape rather than boxes."
Award-winning solution
Cases are supplied to Terrien Wine on a pallet as flat blanks, which are manually assembled by operators as needed—it takes less than a minute to build each one—and sealed with the water-activated gum tape. The winery places 45 cases on a pallet destined for distributors. Once the boxes reach their final destination, they can be disposed of via recycling.
Since being introduced, the case was honored by the Beverage Testing Institute in January 2012 with gold awards in the Creativity, Form, and Functional Innovation categories, as well as with the Best Case award, in the World Wine Championships Wine Packaging Competition.
As for the ROI, Terrien says, "Of course, the box costs more than the typical box used in the three-tier distribution system. However, your savings come from not having to waste that box and use a new box with polystyrene. This is a great solution if you are ready to recoup your costs and then some."
"I should say, this is not a solution for the entire industry," he adds. "We are very much a niche, a handcrafted wine of very minute-volume productions that is sold largely through the mailing list. For that reason, it makes this solution possible."
Companies in this article