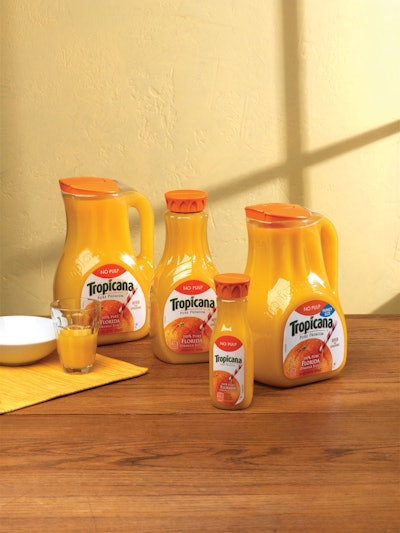 "Packaging is central to what we do, and right now we're in a big, big packaging transformation."

That's how vice president of marketing Memo Maquivar of PepsiCo's Tropicana Products Division describes Tropicana's carefully coordinated and lovingly executed move to clear PET containers for all four sizes of its Tropicana Pure Premium (TPP) brand.

"It's been a huge shift for the company," Maquivar continues. "You can imagine how significantly our manufacturing footprint in Florida has had to change in moving to these new clear plastic containers." In some cases the move was away from gabletop cartons, while in others it was white HDPE that was being replaced.

"Keep in mind," says Ruth Spudic, packaging and promotions director, "that this was all done on top of running the base business. Product kept going out the door, as it had to. Transforming the business, the plants, the labels—not to mention keeping our suppliers up to speed and in synch with where we were going—it was extremely demanding. Only an amazing team effort could have pulled it off."

Adds Maquivar: "It was like changing the tires while the car is still running. But we were careful to adapt each line in a way that maximized the capital investment involved."

In all four sizes, the primary driver in the switch to PET was product clarity. The move was also seen as an opportunity to give all four TPP offerings a common look.

The shift to PET started in 2011, when a 59-oz ESL gabletop was replaced by an injection stretch blow molded (ISBM) PET container also holding 59 oz and filled on ESL equipment. The bottle weighs 60 g and has a closure with an induction seal membrane that is affixed to the bottle by an Enercon system. Next was the single-serve 12-oz container, which is aseptically filled on a GEA Procomac system because it's sold through convenience-store channels and consequently needs a longer shelf life than ESL technology provides. The single-serve was already in an ISBM PET bottle, but that bottle was decorated with a full-body shrink sleeve label. The new single-serve PET, weighing in at 21.5 g, takes the same carafe shape as the 59-oz bottle, and the full-body shrink sleeve label has been replaced by front and back labels. Why the change in decoration? "It's a matter of premiumizing the brand," says Spudic. "Being able to see the juice is huge to the consumer. And the mini carafe shape is much more elegant."

Handled EBM PET
Most recently, TPP's 89-oz ESL offering went from opaque white high-density polyethylene to a clear, handled bottle that's extrusion blow molded (EBM) of PET. It weighs 106 g. And finally, early next year, Tropicana will introduce the largest bottle in the TPP series: a clear, handled, EBM PET container holding 118 oz and also filled on ESL equipment. It will weigh 130 g.

All four of these new PET containers—12-, 59-, 89-, and 118-oz—share common design features that make them parts of a design whole. For example, the elegant carafe style for the 59-oz bottle that led the way is repeated in the 12-oz container. The closures on these two containers also echo each other, as does the fluting that runs vertically up and down the sidewalls.

This vertical fluting is also carried over into the 89- and 118-oz sizes. But the real news on these two large containers is in the resin used to make them and in their unique closure. Let's start with the resin.

These two large, handled bottles are extrusion blow molded of Polyclear® EBM PET 5505, a relatively new EBM-grade PET resin from Indorama Ventures PLC. Indorama says Polyclear is priced at parity with the other EBM-grade PET resins that have been used in the past. But Polyclear differs from such resins because they are glycol-modified to make them melt and flow the way they need to in an extrusion blow molding application. Polyclear is not glycol-modified. It's a semi-crystalline PET, essentially the same as the PET used routinely throughout the beverage industry to make injection stretch blow molded bottles. Why is this significant? Because Polyclear won't disrupt the well established PET recycling stream. When it's turned into flake and heated at the 160 deg C temperature that is required in the PET recycling process, it behaves just like any other PET flake. Glycol-modified grades, on the other hand, tend to soften at 160 deg C and can gum up the recycle stream.
The Association of Post-Consumer Plastics Recyclers has recognized Polyclear EBM PET 5505 as meeting or exceeding the APR PET Critical Guidance Document protocol. That means that Tropicana is able to put the "PETE 1" resin code on the bottom of its two handled PET containers. Other clear, handled containers in the marketplace, including those made of glycol-modified PET, must use the "Other 7" code.

According to Neil Enciso of Tropicana Packaging R&D, the firm could have launched a handled PET bottle earlier, just as other beverage companies have. But management was committed to waiting until a resin was available that was more recycling friendly.

"So in addition to aesthetics and functionality, even the resin we use brings us an advantage because consumers care about recyclability," says Maquivar. "Besides, with everything we do here we try to improve our sustainability status, and this is one more example of that."

Also worth noting in the two handled bottles is a design requirement that affected resin distribution. The shoulder area must be robust enough to withstand the force exerted when the cap is snapped on. So Tropicana worked closely with container maker Graham Packaging to make sure the top of the bottle is sturdy enough to provide the rigidity to withstand the capping process.

According to Enciso, there were times when the aesthetic goals of the project ran counter to the technical realities of what EBM plastic can and can't do. For example, the "Tropicana" molded into the shoulder of the 59-, 89-, and 118-oz PET containers was no slam dunk. "We couldn't include it in the 12-oz because there just wasn't enough real estate," says Enciso. "But we wanted it on the three larger sizes because, like the vertical fluting, it reinforces that connectivity among the containers across the brand. It wasn't easy to get it placed right without it burdening the rest of the design, but we managed in the end." Enciso also credits Fuseneo with assistance on many of the design aspects of the new range of PET containers.

Clever closure
Just as innovative as the handled bottle is its two-part, hinged, flip-top closure. Both the flip top and the larger base part are injection-molded of HDPE by Aptar. That firm then uses an automated assembly system to snap the flip-top part into the other, larger base part. The base part has a ring-pull in the center of its 42-mm opening. Aptar also inserts an induction-seal foil component, supplied by Selig, into a circular channel or "holding ring" that is molded into the underside of the larger closure part. On the Tropicana filling lines in both Bradenton and Fort Pierce, FL, a rotary-style capping system from Pneumatic Scale Angelus snaps on the closures shortly after filling. Filling is done on a machine from the same machine builder that supplied the capper; used originally for HDPE bottles, it was modified to handle the PET.

After filling and capping, bottles pass through a Relco induction sealing system. Sorting, feeding, and orienting the unusually shaped closures was among the more significant challenges that Tropicana faced as it brought the new container to the marketplace, says senior director of engineering Harold Hildenbrand.

"Fortunately, Pneumatic Scale had some experience with caps like these in other consumer goods like soaps and lotions and things like that," says Hildenbrand. "We were able to leverage that."

Two other details regarding the cap. Consumers don't have to hold the flip top open when pouring. "We designed it so that when you push it back just past a 90-degree angle you can feel it lock into position," says Nicole Green, senior manager of PepsiCo Packaging Innovation. "So you can pour one-handed and not have to worry about the flip top flipping down on the flow of product and causing a mess. Also, the pour spout is designed with a pour cutoff that prevents dripping."

Having fun with it
One thing that's abundantly clear in conversations with Tropicana is that there was room for fun once it came time to promote the new packaging. The best example is the campaign that Spudic and her team cooked up to promote the single-serve containers.

"We saw an immediate lift when the new single-serve package was introduced," says Maquivar. "But we saw another lift when the city-specific campaign aimed at urban commuters was launched."

The city-specific campaign was all about labeling. For commuters in New York City, a New York label was created. The same was done in Philadelphia, Chicago, Atlanta, Boston, and Washington, DC.

And the Tropicana brain trust didn't stop there. In what they called station "dominations," they more or less took over Penn and Grand Central Stations in New York, Union Station in Chicago, South and North Stations in Boston, and other key commuter hubs in the other cities by flooding them with banners, posters, awnings, self-standing cutouts of bottles, and a variety of other in-your-face promotional messaging that made the stations look like Tropicana Central. Each domination lasted four weeks and included subway car wraps, as well. Six cars on Chicago's CTA Brown Line are still wrapped as this issue goes to press. The messaging behind all of this colorful, dynamic, and packaging-centric activity was essentially this: "We have come up with a packaging format the makes a single-serve bottle of Tropicana Pure Premium the best thing that could possibly happen to you, regardless of how many unpleasant things happen to you, on your busy and crowded morning commute."

Here again was a point in Tropicana's packaging transformation journey where suppliers had to stand ready to help, Spear in particular. "Labels for the single-serve bottles come from Spear, and we have a great relationship with them, not just from a printing standpoint but from an engraving and design standpoint," says Spudic. "On these city-specific bottles, they've worked with us to produce shorter runs than we would normally order. We break in when we need to and we get an extremely quick turnaround time. And it's all gravure printing. We'll be looking at taking advantage of digital printing to turn around messaging more quickly for next year. Digital printing has made great strides lately. It's among the technologies that our Packaging R&D and Global Procurement people are constantly looking at to give us something new that we can take advantage of."

The city-specific campaign isn't the only example of how Tropicana leverages packaging to drive home a message. "We play with caps, labels, and other packaging components to bring unique brand personality to life," says Maquivar. "Ruth and her team do a great job of adapting packaging components so that they communicate whatever message we want to convey."

TV ad campaigns can also be unabashedly packaging-specific. Soon to be aired, for example, is a spot featuring Jane Krakowski of the popular comedy series 30 Rock. In it, she and two girlfriends analyze the 89-oz handled PET container and, several double entendres later, conclude that size does matter.

Investing in consumer convenience
Maquivar acknowledges that the new packaging comes with an added overall materials cost, and some of that cost must be absorbed. But it's an investment in consumer convenience and functionality that pays dividends.

"Consumer preference for our 89-oz container is at 72% compared to 28% for our chief competitor's 89-oz clear, handled, PET container, which, by the way, doesn't have the flip-top closure," says Maquivar. "And we just introduced this package in March. So we think it's a real game changer.

"It's all about understanding where the brands need to go and then ensuring that innovative packaging is fully leveraged to get them there. We merge aesthetics and technology into packaging innovation, and that, in turn, leads to differentiated brands. We see how powerful an impact packaging can have."

The new PET container shapes have also penetrated beyond the TPP brand. Trop50, the fast-growing reduced-sugar and reduced-calorie juice beverage that uses an all-natural stevia-based sweetener, was introduced in gabletop at the end of 2009. Now it's in a PET carafe that actually preceded the transformation of TPP to PET. And Dole brand juices, with their unique tropical blends favored by Hispanic consumers, are now being rolled out in a 59-oz PET carafe that replaces a gabletop carton.

"Gabletop cartons are still part of our portfolio, and it's a packaging lever we need to be able to continue pulling," says Spudic. "But the majority of our business is transitioning to PET."

Referred to internally as "Project Inspiration," the packaging transformation of the TPP brand has been about three years in the making. It started with early investigation by Packaging R&D, followed by building a business case, re-tooling the supply chain, modifying the packaging equipment in the plants, and finally, consumer launch. Maquivar sums it all up this way: "It's a long-term commitment where the Pure Premium brand is concerned, and it was based on a lot of consumer insights."
Companies in this article