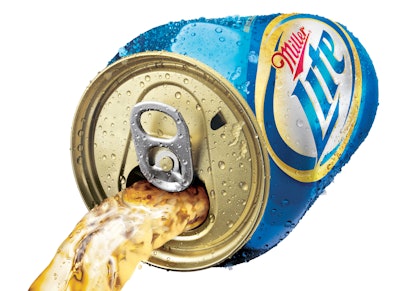 By now you may have seen the "How will you punch it?" commercials for Miller Lite and Miller Genuine Draft 12- and 16-oz Punch Top Cans, in which MillerCoors employs the cans to help sell beer in that competitive market.
Both the aluminum cans and ends are supplied by Ball. During manufacturing, a secondary tab is scored into the end, which consumers can open with anything from a house key to a golf tee to a dollar bill, "for those who are especially clever," says a MillerCoors press release. "Simply set the can on a solid surface, place your chosen opener against the edge of the can and use leverage to open the second tab."
The self-described second-largest beer company in the U.S. explains that when this secondary can end tab is opened, it increases airflow, reduces "glug," and results in an improved, smoother pour.
"Miller Lite is giving beer lovers an even more enjoyable drinking experience with the breakthrough Punch Top Can," says Amy Breeze, director of innovation and activation for Miller Lite. "In our testing, consumers told us they prefer the Punch Top Can three-to-one over the standard beer can because it's more like drinking from a pilsner glass. We're proud of our product and think everyone will have a blast exploring different ways to open it."
The Punch Top Cans were available in retail accounts across the country beginning in April for all Miller Lite and Miller Genuine Draft 12- and 16-oz cans.
"We always listen to feedback from consumers and retailers, but it's our intent for this to be a permanent change to the Miller Lite and Miller Genuine Draft 12- and 16-ounce cans," says Scott Bussen, MillerCoors marketing communications.
He notes, "The manufacturing process for the Punch Top Can ends is quite similar to that of the regular ends. The scoring for the secondary tab on the Punch Top Can end does not require any extra manufacturing steps because it happens at the same time as other scoring on the end."
Some may consider the pack more of a marketing gimmick, but the packaging change is having a positive impact for MillerCoors. "We're already seeing a boost in Miller Lite can sales as a result of consumer and retailer interest in the Punch Top Can," asserts Bussen. "Innovation such as this not only leads to increased sales, but also strengthens brand equity by reinforcing the Miller Lite commitment to great taste. And as the focus of our summer retail promotion, the Punch Top Can creates news that results in greater feature and display activity for our brands at retail."
Companies in this article