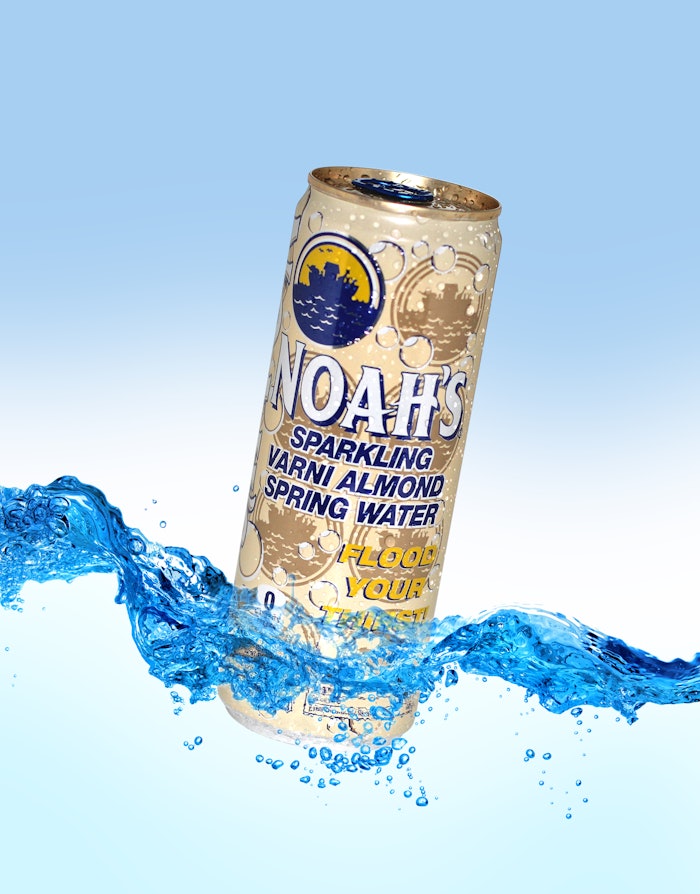 Noah's Sparkling Varni Almond Spring Water—sold in 12 oz. SLEEK® cans from Rexam—has a rich almond flavor reminiscent of the fresh nut crops grown in the groves of the California Varni Almond Ranch. The natural almond essence blended with the great-tasting sparkling spring water offers an ideal balance of sophisticated flavor and refreshment.
"We wanted this new product to taste like you just picked a fresh almond off the tree, cracked open the shell and bit into the crisp and crunchy nut," said Tony J. Varni, president of Varni Brothers Corporation. "We are the first sparkling spring water with natural almond flavor, and people have been pleasantly surprised at this unique flavor offering. We like to say that it's 'Just a Bit Nutty.'"
Noah's Sparkling Spring Water comes from Adobe Springs in California, and contains 110 mg. of magnesium per liter, nearly 20 times the amount in other bottled spring waters. Researchers have found that Magnesium is an essential mineral that provides substantial health benefits. In addition to the new flavor, the Noah's Sparkling brand family includes Original, Lime, Blueberry Pomegranate and Peach Mango.
This expansion continues Noah's strong partnership with Rexam, whose beverage packaging delivers portability and recyclability while also attracting attention on store shelves.
Noah's Sparkling Varni Almond Spring Water is currently available at select retail locations in California, Nevada, Idaho, Tennessee, Ohio, New York, Pennsylvania and Massachusetts, and will be expanding to other states over the next few months.
Noah's California Spring Water began operations in 1992 as part of the family owned beverage company, Varni Brothers Corporation. The Varni's decided on Adobe Springs as the source for their new brand because of its great taste and unique, superior quality that is unduplicated anywhere in the United States. The NOAH'S trademark was designed as a friendly and refreshing symbol with more than 4000 years of name recognition. Varni Brothers Corporation is still completely family owned. It remains well positioned in a beverage industry that continues to change quickly.