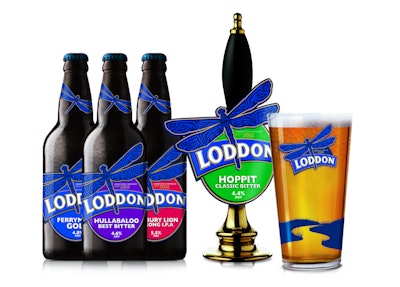 As part of a three-month project, design consultancy We Are Pure has produced fresh new concepts for Loddon's five core beers, as well a monthly special beer.
The new branding places greater emphasis on the recognizable dragonfly logo and blue coloring, which both reflect the brewery's name, derived from the River Loddon. The logo is now much larger, with the dragonfly also featured on the neck of the bottle. New typeface has also been created to give the brand a more simplistic, modern feel.
"This was a major project for us," says Chris Hearn, director at Loddon Brewery. "We Are Pure took the design brief and went above and beyond our expectations to make our brand even stronger. We're confident that it will be a huge hit with our customers and within the brewing industry as a whole."
Commenting on the project, We Are Pure's owner and creative partner David Rogers said:
"Our work with Loddon presented an interesting challenge as we needed to produce an innovative concept that had clear shelf standout, whilst still retaining a sense of heritage and family. The brewery has an incredibly loyal customer base and whilst we were aiming to appeal to a new audience, we also didn't want to alienate existing consumers.
"This is the first time we've rebranded a beer range, and I think that has worked to our advantage. We were able to draw on our experience in other sectors and avoid market stereotypes. The result is a concept that seamlessly blends the old and new and will hopefully take Loddon to a whole new level."

Companies in this article