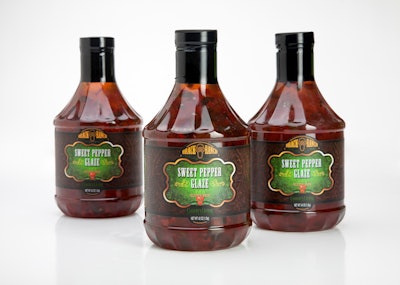 Heritage Family Specialty Foods Inc., a Grand Prairie, TX-based supplier of specialty food products for retail and foodservice markets, has introduced its Brack Ranch Sweet Pepper Glaze in a new 32-oz decanter-size PET bottle from Amcor Rigid Plastics. The move to the lightweight and break-resistant PET container has given Heritage Family an entry into the club-store market segment, with a launch late last year at Costco locations throughout the Southwest.
Heritage Family chose the stock, 50-g PET bottle over alternative packaging options due to its premium look and sustainability benefits. Most important, according to the company's vice president of marketing Michael Moss, was the container's ability to deliver cost benefits and improved manufacturing efficiencies for club-store distribution. "If we hadn't found an acceptable bottle like Amcor's, we would have been forced to use two shrink-wrapped 16-oz bottles, which would have added cost and increased production time," Moss says. The final product would have required twice as much packaging and increased the cost for consumers, he adds.
Until now, Heritage Family only offered its Brack Ranch Sweet Pepper Glaze in a 16-oz glass container for retail and specialty stores. For club stores, the specialty food supplier opted for a PET alternative that also delivers performance and cost advantages, including portability and a light weight, along with sustainability benefits such as recyclability, reduced transportation costs, and a significantly reduced carbon footprint.
Moss notes that PET meets the growing sustainability requirements of the packaging and retail industry, resulting in greater penetration in retail/club-store channels. And, he adds, consumers are drawn to the attractive and lightweight features of the PET bottle compared to traditional glass containers. "In the end, lightweight PET not only delivered a savings in terms of transport costs and breakage but also gave us the glass-like appearance and shelf-life appeal to maintain the brand image of our Brack Ranch Sweet Pepper Glaze product," he says.
The specialty food product is co-branded with Country Living magazine's Country Living Specialty Food Collection. Heritage was the first to offer a pourable pepper-jelly glaze product in the U.S. The PET containers have been seamlessly integrated into existing glass filling lines with minimal adjustment.
Companies in this article