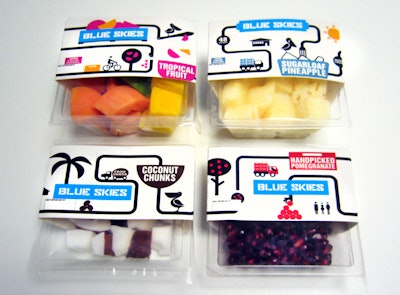 Some companies ship fruit around the globe by sea, a process that can take weeks. However, air travel is the preferred transportation for Pitsford, Northamptonshire, U.K.-based Blue Skies, which makes use of the cargo holds of passenger aircraft to deliver a fresh, high-quality product.
Blue Skies employs more than 2,000 people in Ghana, Egypt, South Africa, and Brazil, supplying customers that include some of the biggest supermarket chains in the U.K., Europe, and South Africa. The company sources pineapple, papaya, mango, coconut, and passion fruit from local fields, then cuts and packs them at local facilities.
"We believe in fair trade by adding value at the source," says Simon Derrick, communications manager, Blue Skies. "That's why our fruit is cut and packed at the country of origin. We return value to the local community by creating jobs and stimulating the economy,"
Getting the freshly cut fruit from field to table quickly is challenging, however, and the race against time begins the second fruit is harvested. To meet the challenge, Blue Skies now employs a time/temperature-monitoring system from TempTRIP, LLC to help make sure that its fresh-cut fruit maintains its quality as it travels from African fields to U.K. tables in as little as 48 hr.
Before making the trip to the airport, fruit is packed into plastic trays. Depending on the fruit type, four to six trays are placed into a corrugated case. Some 500 to 700 cases are then transferred into air-freight cargo containers known as AKE's, which are lined with polystyrene and packed with dry ice. These are then loaded on to Blue Skies refrigerated trucks for the trip to the airport.
Blue Skies food technologist Joe Revell explains that once fruit arrives at the airport its handling is out of the company's direct control. Therefore, if a temperature problem occurs it is important to identify how and when it happened. 
Since Blue Skies employees cannot be with the shipment every minute of the journey to monitor its condition, the company is relying on the TempTRIP time/temperature- monitoring system to tell it exactly what has happened during transit.
The system incorporates three basic components—RFID smart cards, RFID reader with optional integrated barcode scanner, and the Internet. The first step is helping users set up an on-line profile that includes shipping, storage, and receiving-point data plus temperature configurations, and which parties get to see the results.
The smart cards are activated via the RFID reader at dispatch. They are programmed to record temperature every 15 min. Blue Skies places a smart card into some of the containers before they leave the facility for the airport.
When the containers reach their destination, the smart cards are stopped and the data is uploaded. Results are sent via USB to a dedicated page on the Internet. Users also have the option of mailing the smart card back to TempTRIP, which makes results available online within 48 hr. The TempTRIP system makes it easy to connect the temperature data to the shipment reference for more valuable data reporting and analysis.
"After the data has been uploaded, we can look at a graph that instantly gives us a picture of what happened during transport," says Revell. "It has hours on one axis and temperature on the other.  We can look at any peaks in the graph and relate them to where the shipment was at that time.
"This is valuable information for us, particularly if the product gets rejected by the customer. When that happens, we may end up having to pay a disposal cost and being charged for their loss of profit. If however, we have data that can prove that the shipment was subjected to temperature abuse by an external company, we are able to go back and reclaim those costs," he stated.
Blue Skies is currently introducing TempTRIP on its shipments to Europe. Since the company prides itself in being able to offer exceptional quality products to its customers, it is important that high standards are maintained throughout the supply chain on a continuous basis. The TempTRIP time/temperature-monitoring system helps Blue Skies do just that.
"We were using a different time/temperature monitoring system prior to TempTRIP, however those probes cost about £70 each. They would frequently get lost, which would add more expense. The TempTRIP system is quite cost-effective in comparison and gives us instant access to the data," Revell says.